From the WTF? files: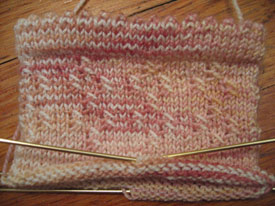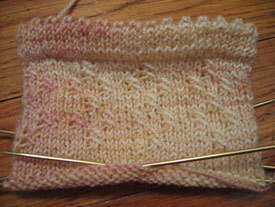 You'd think it's bad enough that the colorway pools in the most obnoxious way – not striping, not zigzagging, not swirling, not spiraling… instead all the light segments are on one side of the sock, and all the dark, on the other. But no! The thing is big enough for 1.5 feet: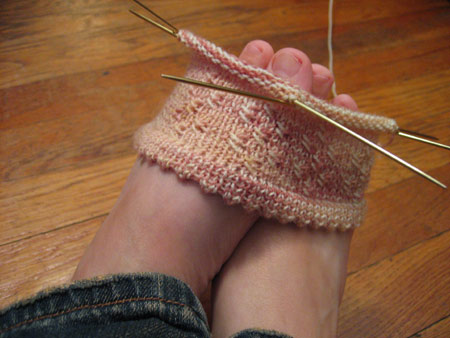 This is why I cannot stop using Lorna's Laces. I can knit with that yarn in my sleep! I know exactly what will happen if I cast-on 60 sts. Or 72 sts. Or how many stitches to cast on for a narrow foot. Or a wide one. And how much I expect the sock to stretch, length-wise and width-wise. And what will happen after the washer and dryer.
As soon as my wandering eye considers another sock yarn, bad things happen. In this case, riding the waves of my previous variegated yarn successes, some devil possessed me to purchase Claudia Hand Painted Yarns in Butter Pecan. "The color is perfect for grandma," I thought, "and I can make it stripe! I know I can! It can't be too difficult to figure out the right stitch count. No problem!"
Bwahahaha! I wish the photos above represented my first (or second) (or third) try. I'm not used to the stretchiness of it – Lorna's Laces, with 20% nylon content, holds its shape wonderfully, but fabric knit out of this stuff can widen and lengthen and widen and lengthen… So reducing the circumference by, say, 4 stitches does nothing.
You might wonder whether this is the end of the Claudia Co. love affair. Didn't I proclaim that if a knitter is bothered by pooling, there is no shortage of solid-colored sock yarns for him/her? Call me a hypocrite ;). The yarn has three pros which cannot be ignored: (1) the colorway is perfect for my grandma, (2) it survives frogging like a champ, and (3) it is the softest, squishiest, butteriest yarn I have ever used in my life. So I cast on again: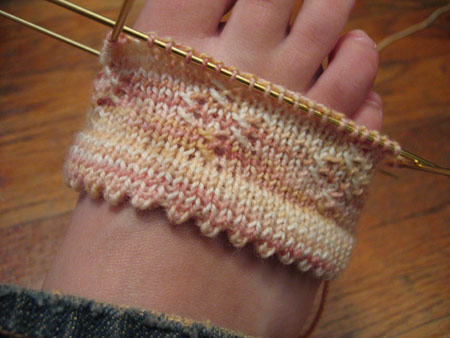 Seems to fit better and spiral. We'll see what happens in 20-30 rounds. I cross my fingers.
(This is a simple stockinette sock with a picot edging, worked over 60 sts on US 0 needles, with some herringbone stitches thrown in for interest)
0
likes