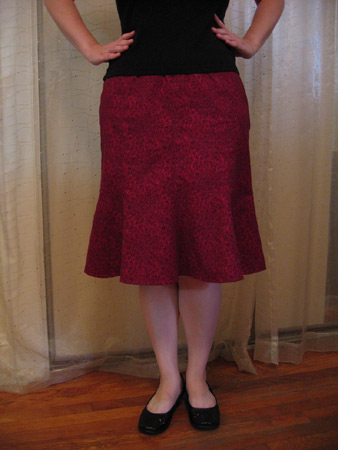 Oh, yes, my friends, the Grumperina has been sewing.
We've all witnessed my uphill battles with sewing, my terrible luck finding an appropriate sewing class or teacher. No more!
Towards the end of July, the Sewing Goddess finally took pity and led me straight into the hands of a Professional. A Professional with a capital "P." In my crazy perverted brain I had this vision of the perfect sewing teacher – an 80-year-old firecracker, preferably Austrian or German, who'd press her ruler against my lower back so I wouldn't hunch over the sewing machine. My teacher isn't anywhere close to 80, but when she gently used her hands to straighten out my back and shoulders the first time I sat behind the sewing machine, I knew I had found the right person.
Since then I've been going to sewing class once a week, and although the commute is longer than the class itself, it is completely and totally worth it. The time I'm devoting to sewing is one of the reasons this blog hasn't been getting as much action as it once did.
But, oh, I've learned so much – patterns, tracing, adjusting, pinning, cutting, sewing, tools, pressing, interfacings… all in meticulous detail. Me-ti-cu-lous. Nothing is a shortcut, nothing is half-assed. My heart pitter patters, my mind screams, "Yes!", my sewing confidence is boosted after every class.
My first project is complete, and I'm thrilled with the results. It is Burda 8213, previously mentioned here. I used a Robert Kaufman 100% cotton (AJS-4143). This is an 8-gored skirt with an invisible side zipper, about 22.5″ long. Major modifications to the pattern include: shortening the length by about 5″, adding a little width (the base was size 14), using a facing rather than a waistband, and a rolled hem rather than a folded one.
I'm as proud and willing to show you the inside finishing of this skirt as I would be showing you the insides of any of my handknits.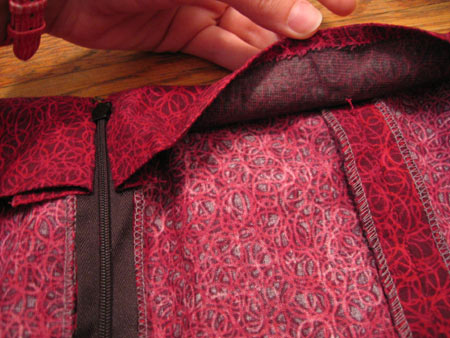 Floating, knotless stitches secure the facing to the inside of the skirt.
Some may point out that I finished this project terribly out of season (I can't believe tomorrow is already November). Others may remind me that the Sew? I knit! girls finished their skirts on March 20th. Eh, what can I say?!? I need to do things at my own speed, in my own way, on my own terms. Sew what?!? I'm making an apron next, and I'm at least 3 months behind that knitalong!
0
likes