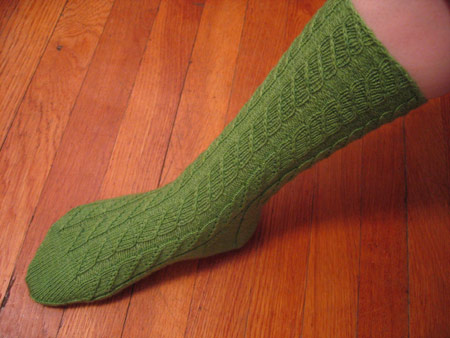 This, my friends, this is what we call a winner!
I didn't take my reservations about the Aran Braided Socks lightly – if it doesn't fit, it doesn't fit! I seriously considered modifying the pattern to make it a bit wider, but when working with large 8-stitch cables, sizing it too unpredictable a venture. Let me put it this way – I know what to expect if I add 6 stitches in a stockinette- or lace-based pattern, but cables… I quote Maggie Righetti:
I have heard and read of "constants," such as "Add 1 stitch of width for each cable used," or "Add 1 stitch per inch of stockinette gauge" to compensate for the width-eating character of cables. Nonsense! The only way to tell exactly how much width the cables will use up is to make a swatch of them and measure it.
And swatching was the one thing I didn't have time for! The plan is to complete these socks during Socktober, so I can move on to other very pressing projects.
Switcheroo! Hundreds of miles away from my pattern books, with only the internet at my disposal, I was thrilled to come across Hello Yarn's Cable Twist Socks. I modified the pattern to be worked over 64 stitches, added an eye of partridge flap heel, and voila!
I've got just a little over a week to finish the second (barely-begun) sock. I think I can do it!
0
likes