I just discovered a sub-par internet connection in my hotel room. This is causing me to let out a little squee! – squee! Sometimes I feel like my entire life is online, and that I'd easier survive without a cell phone or snail mail than without internet.
One thing that's not causing me to squee is the Aran Braided Socks.
While beautiful, they simply aren't working out for me. I wanted socks which are rather high, clearly reaching the calf. However, in their current state, the socks become too tight just a few inches above the ankle bone. Sigh… I think this pattern will make great ankle socks – just a little tidbit to store away for future use, I don't intend for these to become ankle socks.
But what am I going to do in the meantime? Well, frog, for starters. And then, I was thinking of adding a few stitches between each of the repeats, which I'll later decrease away. That should give a little extra width.
Or perhaps scrap this pattern entirely… (if only my knitting library was at my disposal right now) (if only the internet connect was a little faster so I could cruise some knitting sites)
Good thing I have another project with me while I mull over the socks!
Look familiar?
I decided to mimic the Blue Fly scarf for dad's next Sharfik. I'm not positive it's an exact replica of the stitch pattern, but I'm happy with it, so I'm forging ahead. Here's a more straight on side-by-side: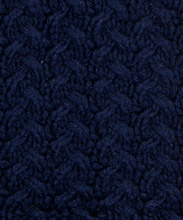 Considering that this is a stockinette-based stitch pattern, I was concerned about curling, especially along the length of the scarf (i.e., morphing into a long narrow tube). It appears that this is not an issue, however, and the thing is rather flat. Wheew!
And now, back to sock mulling…
0
likes