I must admit that I am enjoying these blocking wires: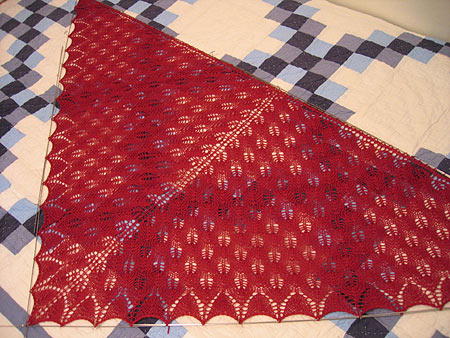 Compared to my previous blocking method, the wires speed things up a great deal. With the 'tensioned string' method, the most time-consuming part is securing the string in a fully extended position, considering both the string and the shawl are opposing this tooth and nail. Inevitably, one of the pins loses its head and ends up… in your buttocks.
With blocking wires this problem is eliminated – thread the wire through the edge, pin one end, pull on the other, then pin it, too. No opposition! A few (16, to be exact) pins hold the shawl in place, and voila!
One note about these particular blocking wires from KnitPicks: when they arrived, they appeared to be a little greasy and several had black spots of gunk on them. All of this easily came off with a damp paper towel, so it wasn't a big deal.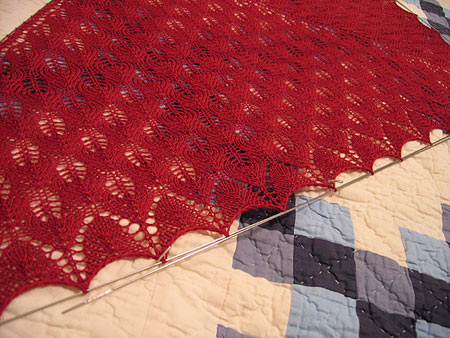 The points of this shawl came out more delicate and subtle than my mom's shawl. I think this is partly due to the nature of the yarn – half of the content is silk and cashmere, and it's spun and plied in a way that maximizes the fibers' inelastic qualities.
In addition, stretching all the points along a straight line (dictated by the blocking wire, but it would be the same if they were blocked on a piece of string) dampens the shape of each individual point. In other words, if I pinned each point individually and stretched it as much as possible, the shape would be less triangular and a bit more like a semi-circle, with each point more pronounced.
I noticed this as soon as I started to pin out the shawl, and figured out the reasons behind it, yet left it as is – meaning, I'm quite pleased with the delicate edge, and don't want to change it :).
FO photos: soon 🙂 (rain, rain, go away!)
—–
My projects for October are starting to take shape. First up – a new pair of socks! My timing couldn't have been more perfect – it's the first day of October, and the first day of Socktoberfest!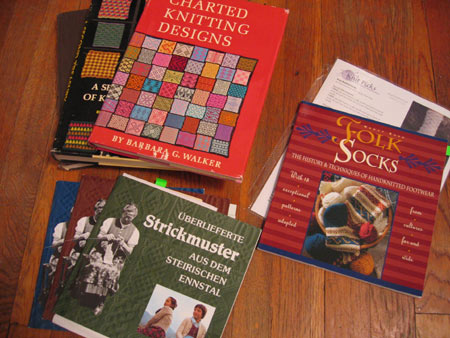 I'm challenging myself to come up with an original pattern using twisted stitches. This isn't my typical realm of expertise, so I have my Walkers
and Erlbachers at my side. And if the shit hits the fan… let's just say I'm already prepared, so the possibility is likely – Chalet Socks from Folk Socks, and Eunny's Bayerische socks are at my disposal. If the twisted stitches are too much to handle, Aran Braided Socks from KnitPicks have the look I'm going for without too much headache.
Yarn? Lorna's has been ordered from Linda. It may or may not be a very happy green. It may or may not be a very happy blackberry. We will see once it arrives :).
0
likes