I have three, count them, three FOs to share with you!
First, there's the impeccably clean microwave. Next, a tub so clean, I'd even take a bath in it. And last, but certainly not least, clean mini-blinds. (Is it just me, or do you also contemplate buying new mini-blinds every time you have to clean them?)
And that's just the beginning. In the past few days I've cleaned more than I have all year. I wish I could say that I was done, but, alas, the kitchen floor reminds me otherwise.
Somehow I managed to squeeze in a little knitting, though! Check it: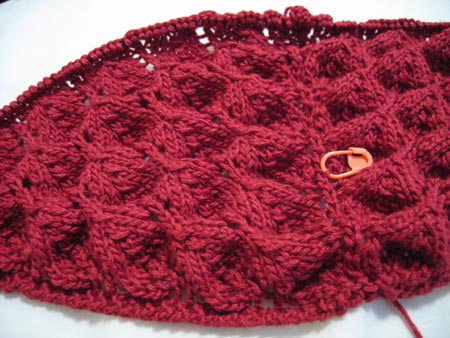 A little progress on my Shetland Triangle. I've just joined the second (25 g) ball, and I think I've completed five repeats. I think that's what it is… "Cleverly," I put a marker to help me keep track of the repeats (the orange one you see in the photo), but I've forgotten what the marker signifies! Did I attach it after the first chart? After the first repeat of the second chart? At some other random point? I'm a dufus.
I'm quite taken by the pattern – so easy to knit, but with entirely captivating results: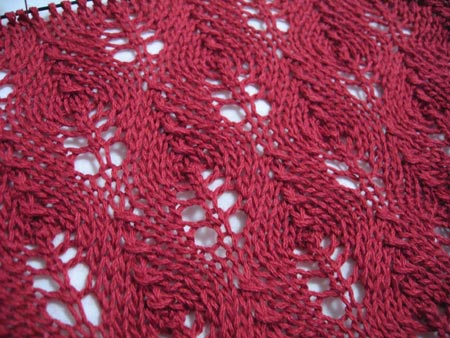 (Speaking of captivating, have you seen Brooklyn Tweed's Shetland Triangle?)
Whenever I'm asked to recommend a good beginner lace pattern, the Trinity of Leaf Lace Shawl, Flower Basket Shawl, and Shetland Triangle come to mind. All designed by Evelyn Clark, and all use the same design principles: knit outward from the center of the back, patterning only on RS rows, repeats which are easy to memorize, stop when you run out of yarn (or space on your lap… or sanity). Good stuff.
Also in the Not So Shabby department, a completed Whitby sock: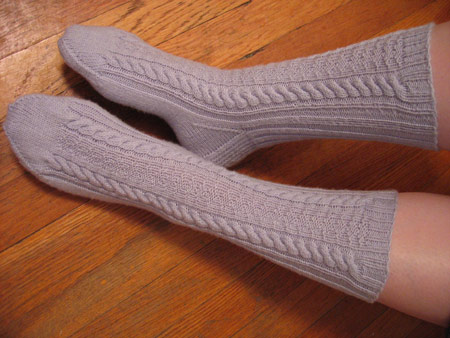 I'm quite pleased with how this project is turning out. Actually, rather delighted, I'd say. The whole thing is squishy and stretchy, not too loose, not too tight. A winner! I think it's the elusive "perfect combination of yarn and pattern," if such an animal actually exists ;). A second sock is on the way!
0
likes