Ladies and Gentlemen, Fellow Knitters, allow me to describe to you the progress and current state of the Shetland Triangle: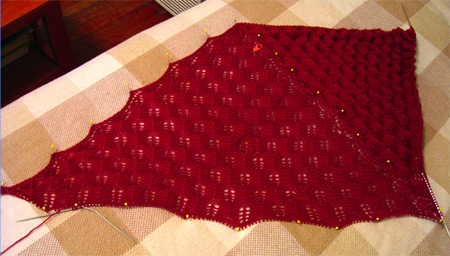 4 balls of yarn have been used (about 360 yards)
12 repeats of the main chart have been completed
when pinned dry (this time stretched over several circs rather than a length of yarn), it measures 46″ across.
Not quite there yet. I think one more repeat plus the edging will be just right. No rush – my blocking wires aren't here yet.
Interesting tidbit: until now I've blocked the straight edges of shawls using Ms. Harlot's method. But the last time I did so, I had an unfortunate accident – one of the anchor pins (the pins which keep the string taut) had its pinhead pulled off by all the tension, and got buried in my couch. And then, weeks later, it found its way into the back of my thigh. Time for Plan B, right?
Yet another thing you didn't know about me :).
Speaking of, I was hoping more of you would answer the meme, but I understand that it's a tough one. Every day we choose whether or not to reveal personal things on our blogs, but our knitting adventures are supposedly entirely public. That's the whole point! If I can't tell you about the Fair Isle From Hell That's Keeping Me Up Way Past My Bedtime (aka, FIFHTKMUWPMB), then who can I tell?!? So it's pretty ridiculous to even imagine that there are 10 things pertaining to knitting which your readers don't know. But it's a fun exercise nonetheless :).
I leave you with a close up, demonstrating the drastic difference between the blocked and unblocked states of this lace: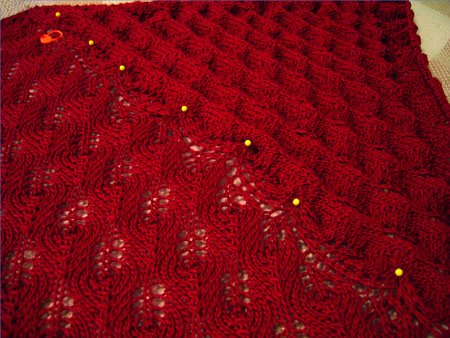 0
likes