Seriously, guys. I know I'm the hugest geek to ever walk the Planet, but you?!? I did not for a second predict that so, so many of you would want to know about the designs on the onesies. And in such detail! In fact, I predicted the total opposite – what if it's something gross? Did you think of that? 🙂
But I guess I'm very flattered that you'd like a glimpse into my neurobiology world, and I give a little explanation in the extended entry (click link at bottom).
As I've mentioned, my September started unpredictably and, to my great dismay, knitting time has been reduced. To add insult to injury, my parents are visiting this weekend. [Cue ominous music] Dum-dum-dum!!! [/music]
While I'm always happy to see them, I prefer to visit them at their house. When they come to my place, to be honest, I get a little worked up. There is cleaning to be done, and laundry so that they have some clean sheets and towels, and shopping so my dad can enjoy his favorite unsweetened Snapple, and maybe I should consider what the hell I'm going to do to entertain them. Because sitting on the couch and "chatting" is NOT my idea of fun.
All this to say that if a few days go by and you don't see a fresh post from me, it's not because I've fallen off the face of the Earth. No, no! It's because, without a doubt, I'm scouring the inside of my microwave, which I haven't thoroughly washed since the last time my parents visited (I'd tell you when that was, but I think I'll let your imagination run wild ;)).
So, I'll be back in full capacity in about a week. In the meantime, enjoy the neurobiology below!

Okay, this is for the curious.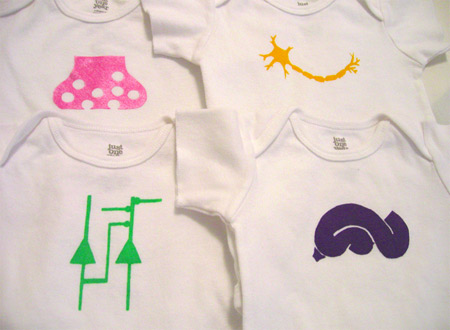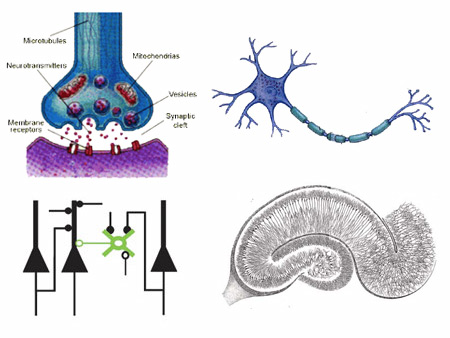 The pink design in the upper left corner is a cartoon representation of a pre-synaptic terminal. This part of the neuron stores and releases synaptic vesicles (represented as white circles), which can be filled with neurotransmitters like glutamate or dopamine.
The yellow design in the upper right is a neuron. Neurons are specialized cells that make up the nervous system. They have a variety of functions. For example, while neuronal involvement in muscle movement is understood pretty well, the exact way neuronal activity leads to learning and memory is not nearly as clear. In the neuron depicted, the leftmost part is the cell body covered with dendrites (they receive chemical signals), and the rightmost part is the axonal projections, which send signals to neighboring cells or tissues.
The green design in the lower left is a cartoon representation of a neuronal network. The triangles represent neuronal bodies – the depicted cells happen to be excitatory hippocampal cells, which often have triangular cell bodies in real life. The thin lines are connections between the two cells and inputs from other cells: thinner axons ending in small circles (synapses) and thicker dendrites. The cool thing about this design is that I took it straight out of a paper published in my lab!
No one properly identified the purple design (and I don't blame you!). It is a coronal section of the brain through the hippocampus, the center of learning and memory. This particular cut, transverse to the length of the hippocampus, allows researchers to study excitatory connections in the brain with much ease.
2
likes