A coworker of mine is about to become a father for the second time. He and his wife already have a three and a half year-old daughter, and the new baby will be a girl as well. To be honest, I never contemplated knitting for them because it's just not that type of relationship, you know what I mean?
Instead, I became rather fixated on making those adorable stenciled onesies using freezer paper. I knew the parents would appreciate a cute but science-geeky gift, so freezer paper stencils seemed like a natural choice – I could adorn the onesies with neurobiology images! You may laugh… now :).
If you read any crafting blogs, you probably know exactly what I'm talking about. Ms. Soule made some here and here, and Ms. Shim won me over with tiny blossoms (as well as superlinked the whole freezer paper craze in this post).
But it was only when I saw a fellow knitter, June, make some that I finally said to myself, "That's it! If a knitter can do it, I can do it!" Granted June is much more than just a knitter, as I'm sure you know if you read her blog, but… you know.
Information on freezer paper stenciling is anything but lacking, and it would certainly be redundant of me to tell you exactly how I made mine, considering I didn't do anything out of the ordinary. I'll mention that I had to purchase freezer paper on Amazon after raiding all the local supermarkets and hardware stores in vain, and that I was mainly guided by a rather informative post on Craftster (which, by the way, made me realize that I'm only a year or two behind the whole craze :)).
I picked neurobiology-based designs that are relevant to our lab. I imagine most of you will recognize the yellow neuron, but probably not the other three: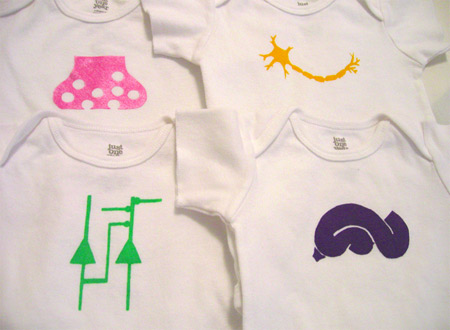 I used Marabu fabric paints, which are conveniently available in an arts store near my house (pink is Textil metallic-pink, yellow is Textil medium yellow, green is Textil light green, and purple is Textil plus dark violet). I also tried Jacquard Lumiere, but found it to be too thick and cakey.
Big sister received a stenciled long-sleeved t-shirt: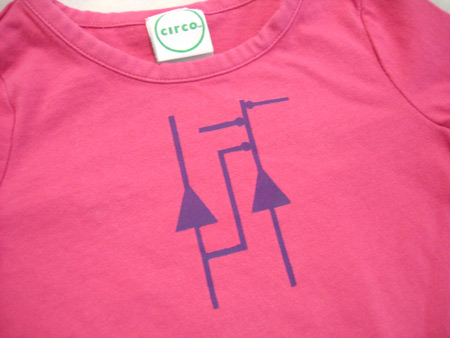 Because this was not a light-colored fabric, I used the Textil plus in dark violet.
Bottom line: my co-worker kept exclaiming that this is, "SO cute!" I think he really liked it, and I'm sure his (also scientist) wife will agree. Furthermore, other co-workers have asked for stenciled t-shirts for their little ones, which of course I'll gladly make.
Geeks unite! Little geeks unite!
0
likes