Some things about me are entirely obvious – I like red, I enjoy working with thin yarns, mohair feels like fiberglass to me, it doesn't take much to convince me to knit for my family… But other things are perhaps more cryptic, either because they don't come up, or they are so obvious to me, I never bother to mention them to you. And so, an idea for a new meme – a list of Ten Knitterly Things you don't know about me!
Believe it or not, it took me a long while to come up with 10 things that I think you don't know. It was a fun exercise! To measure my success, tell me – did you know two or more things from the list below?
Feel free to answer this meme and pass it along. The only rule is that the 10 things must (must!) be related to knitting.
1. On more than one occasion, I've tried to knit a short-row heel using the yarnover method. It frustrates me that I have never been able to do it. It's purely a mental block – something about the backwards yarnovers clinging to the stitches throws me off, and I revert to the tried and true wrap method.
2. Rowan books (e.g., Vintage Knits) are gorgeous, but for whatever reason, I've never knit a Rowan pattern. As for Rowan Magazines, they baffle me. To be frank, I have a hard time visualizing the knitted garment separate from everything else happening on the page. I feel that only after seeing the projects on blogs, etc., I can accurately evaluate their appeal to me.
3. I don't think I'll ever stop knitting socks. I know from experience that a hectic schedule can seriously impede (or completely stop!) shawl and sweater knitting, but socks… a pair will always be on the needles.
4. Although I'm a huge proponent of Combined knitting, and often find myself helping those who are new to the technique, I actually knit in the Western style most of the time!
5. I'm devastated, simply devastated, that I'm unable to participate in Zimmermania (at least right now). I adore EZ, and would love to knit one of her patterns as part of this knitalong. Unfortunately, my October is completely booked up: wire votives for my parents, a new scarf for my dad, finishing up the Shetland Triangle, a pair of socks for a friend whose birthday is in November… EZ will have to wait. I'm curious – which EZ pattern do you think I'm itching to knit? Hint: it's not something obvious :).
6. A recent post on Siow Chin's blog prompted this entry: nothing delights me more than changing colors on a purl row. I first read about this technique in Annie's Confessions of a Knitting Heretic, then quickly tested it out on a toss pillow cover. And how about this sweater, a favorite of mine from Ann Taylor Loft?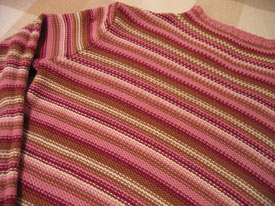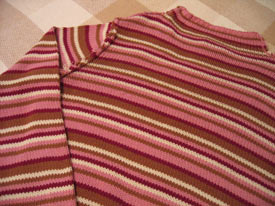 The right side, with its color-changing purls, is so much more interesting than the wrong stripey side.
7. My feelings about cables are decidedly "blah." Bet you didn't know that, considering Forbes Forest was one of my favorite projects to knit, and I've even designed with cables! I guess I really enjoy knitting the cables, but not so much the way cabled things look. So, while I'm happy to cable for others, the motifs don't visually appeal to me as much as, let's say, lace.
8. The promise of a p5tog has made me simply obsessed with the Swallowtail Shawl from the Fall 2006 IK. I think those of you who omitted the nupps, or created them by some kind of shortcut are crazy. Long live the nupps! Long live the p5tog! I want a Swallowtail Shawl just like Carolyn's. I even got yarn for it that's a very similar color. I know that's not a surprise, though.
9. When I modify a pattern, I do so piece by piece. For example, I work out how to knit the back, and only after I'm done, I figure out the front. And only after the front is done, I do the sleeves. I have two reasons for this – (1) allows me to back out easily if something's not working right – I don't feel like I've put all that work into it yet, (2) allows last minute adjustments – if the yarn is running out, I can shorten the sleeves, if the row gauge changes slightly, I can modify on the fly. However, I don't advocate this approach, especially with heavily patterned pieces, since it can lead to problems.
10. I have knit under the influence on more than one occasion. All I have to say is blocking is a miraculous thing. (I've blogged under the influence, too. Any post with an extreme number of exclamation points is suspect :)).
0
likes