Hey! What's that?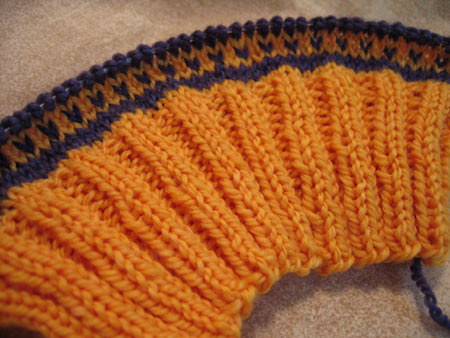 Wait a minute – show me the yarn, it looks familiar…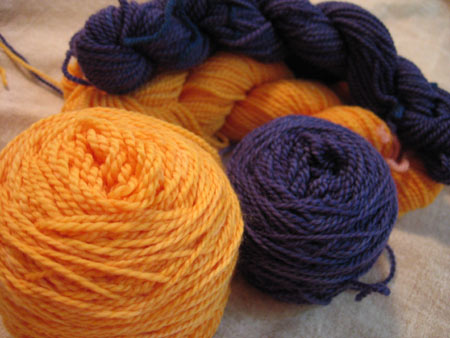 Oh, I remember! It's the yellow and blue sock yarn from Sundara, when she was still "the secret dyer." Didn't you make a sock, like a really big sock, out of that?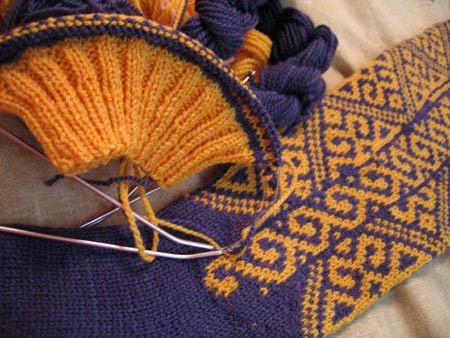 Yes, yes! The Blue and Cream Stocking from Meg Swansen's Knitting!
—–
My friends, it's time to exit my knitting funk.
Mountainash is currently the bane of my existence. I'm not knowledgeable in formal and legal marital terms, but we need that thing where we can see other people. Not quite a divorce, since I do want to come back one day and finish. Maybe a separation? A polygamous arrangement?
Whatever its proper name, I need it. What was joyous and interesting before is only mildly amusing now; what was slightly annoying before is now irritating beyond belief; what was dreadful before is simply unbearable now. The splittiness of the yarn, however slight (Lacey Lamb), the long rows, the uninteresting repeats, it's just never ending funk, that's all it is. Out of sight, out of mind!
—–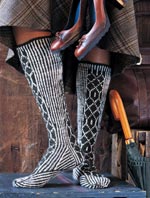 Then there was the trigger: a sock with arch shaping in the upcoming Vogue Knitting… Meg Swansen… un-venting Elizabeth Zimmermann's invention… I remembered! Oh the fun times I had with Meg Swansen's stocking! The yarn, the charts, adjusting the whole thing for my shapely (ahem) calves.

But, alas, there is only one. So beautiful, but, oh, so lonely.
I never had an identical twin in mind, of course. When knitting just for process and show, and not for function, why not amuse myself (and you, my friends) and knit a friend? A perfect companion: so similar at first, but entirely different upon closer examination.
How similar? Enough to fool the unobservant and passersbys :). I'll be using the same yarn – Sundara sock yarn, 006 and 024, and keeping the same basic knee sock shape. In fact, now that I have an actual knitted prototype in my hands, I plan to make slight improvements on the shape to fit my legs even better.
And the differences? First, the background color of this sock will be orange, and blue will be the contrast (reversed on the previous one). Second, the patterns will be completely different (more below). Third, I haven't yet decided on the foot – will I use arch shaping in the background color, just like on the first? Or keep the pattern on the foot? Maybe arch shaping with two colors like the VK sock? I haven't yet decided.
As for the patterns I plan to incorporate, another trigger: I have coveted (coveted, I tell you!) Nancy Bush's Folk Knitting in Estonia ever since I saw Sundara working on Tiit's Socks. For a while it was out of stock everywhere, and I boo-hoo-hooed and moved on to other projects. But I continued to look, setting up "e-mail me when product is available" alerts anywhere that would allow it. Finally, it became available here
, and a virtual swipe of the credit card later, I have it. And I love it.
Oh, what a gorgeous book with such gorgeous patterns. Maybe one day I'll make Laila's socks like Sundara's, but for now I plan to incorporate some of the color patterns into a friend for the first sock. Makes sense, no? The first featured Fair Isle motifs (note: I'm not 100% certain they are actual FI, but text in the book leads me to believe that this is the case), and the second will be all Estonian.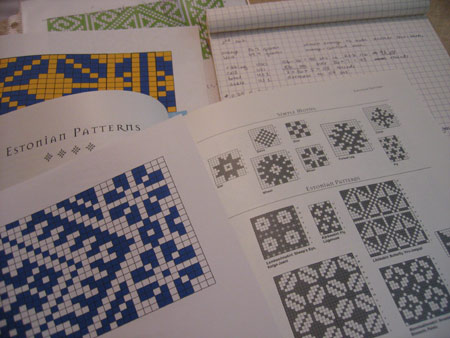 The plan right now is to have a wide band at the top of the sock, and then a smaller repeating pattern down the leg. I've tentatively chosen the patterns – the top will be that dark blue and white chart you see in the lower left corner, and the rest will be the circular (or is it more like diamond?) pattern at the bottom center of the photo. Seems like it will be busy, doesn't it? Good. I'm going for busy. Actually, nothing less than over the top will do for this particular stocking. I want it to be loud and bright and blinding. So you can see it from space ;).
0
likes