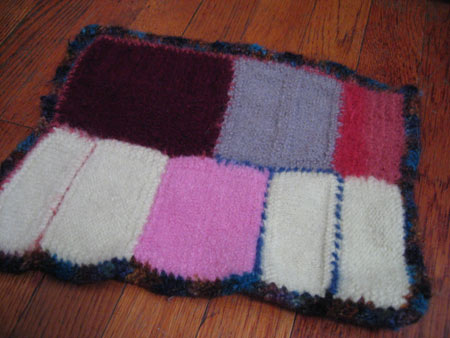 Not ugly in a cute sort of way. Ugly in an ugly sort of way.
Did you ever in your wildest dream imagine that hot off my needles you'd see that?
This warrants an explanation. You see, I'm trying to decide if a certain furry friend would like a felted cat bed.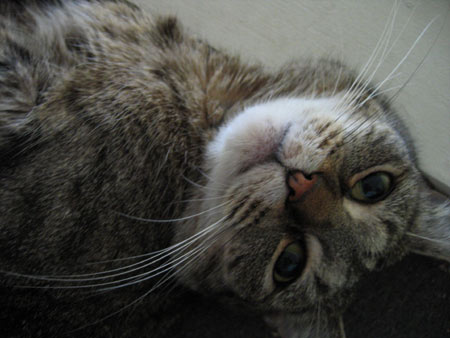 Hello, I'm Kitty, and I'm fabulous. Contrary to popular belief, my insides are made of chocolate.
Kitty is a kitty, and her name is Kitty. She's not my kitty, but I visit often.
I decided to make a felted kitty "bum mat" to see if it's something she likes, and to experiment with felting (baby's first felting right there, aren't you all proud?). To make it, I rummaged through my stash and fished out any swatch that I believed would felt. I stitched them together, then used single crochet (hi, Maryse! Look what crochet can do!) to fill in one corner and make a border.
Before it went into the machine, the bum mat measured 11″ x 13.5″, and after one "whites" cycle, it's like 10″ x 13″. I'm sure it could be felted more, but the machine costs a buck and a quarter, so I'm saving the money in case I get to make an actual kitty bed.
Quick observation: the yarn that felted the most is the brilliant pink in the center, which is KnitPicks Merino Style. Second best was the pink mess in the corner, which is 100% alpaca from elann. Least feltable was the burgundy – Katmandu Aran Tweed.
I'll report back on the Kitty/bum mat interaction.
P.S. My apologies for the sparse blogging this past week. I've been diligently working on the Estonian stocking, and I'm this close to finishing. Every time I get the urge to snap a picture and share it with you, I decide to wait just a bit longer until I'm done. I expect the FO to be the next entry.
0
likes