Indeed, the Estonian stocking is still totally wet. The double thickness of yarn is a godsend during the colder months, but it sure takes a while to dry. When I knit the counterpart, I remember it drying quickly because my apartment is very dry and hot during the winter. This one is taking its time, moping around, water evaporating slowly.
But I, myself, am not moping, that's for sure. While it's blocking, I finally started something with the yarn Siow Chin gave me! It is Honfleur yarn by Puppy, a Japanese yarn manufacturer, and its composition is 50% extrafine merino, 30% silk, and 20% cashmere (100% delicious). I used the needle chart found here to determine that using US 4 needles, the proposed gauge is 23-24 sts and 32-33 rows.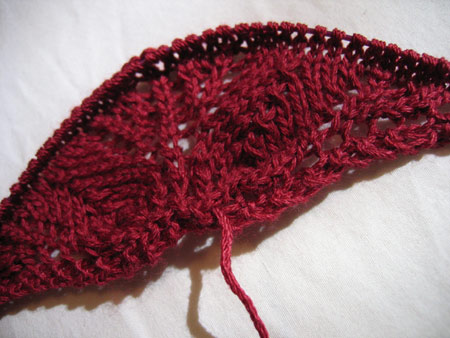 As you've probably guessed, it is the Shetland Triangle from Wrap Style. I'm using KnitPicks Classic Circulars in a US 3. I really like the sharp points, especially since this yarn is somewhat loosely plied.
For some reason I keep getting the urge to move up a needle size to a US 4. The fabric is not dense, and it will be thinner still with severe blocking. I definitely want it less holey than the book sample, which is knit on US 6. I'm not sure what my issue is.
So far the pattern is transparently clear. In a flash, just like that, I worked my way through the first chart, increasing from 2 stitches to 47 in a matter of 20 rows. Sadly, I have to put this project down for now. It's my reserved travel project, and I don't want to get carried away the same way I did with grandma's socks. Because if I don't supervise myself, it will be done before I even leave.
I'm once again in a pickle – what to knit next? Other than the Shetland Triangle, the only thing on the needles is grandma's wisteria socks.
I'm contemplating starting a sweater using Classic Elite's Classic Silk. I've wanted a Classic Silk sweater for myself ever since I knit one for LL. That stuff is just fabulous. But why is it not on sale anywhere?!? Shouldn't the spring yarns be on clearance by now? (in my wildest dreams). Would it be so bad if I got it at WEBS using the discount? Jaeger Trinity was briefly considered as a (cheaper) Classic Silk substitute, but based on your descriptions, it won't work for the type of sweater I have in mind.
I'm rambling again. It's time to start a sock or something before I do anything stupid.
0
likes