This morning I woke up one hour before my alarm was set to go off. I yawned peacefully, rolled over, and… got out of bed. Even though I worked late yesterday, and face a 12-hour day today, there was a certain somp-thin' somp-thin' sitting on my couch that was even more interesting than an extra hour of sleep. If you know me and my love of sleep, that's saying a whole lot. Seriously!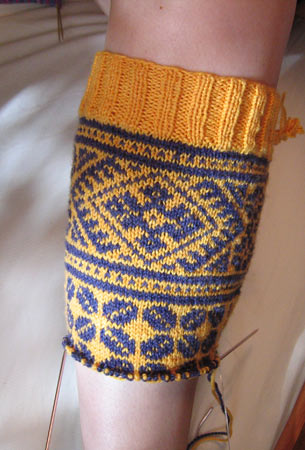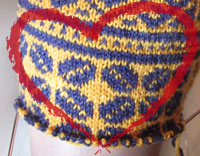 What do we think?
I'm liking it! This motif is basically the same one used in Marko's Mittens (p. 100 of Folk Knitting in Estonia
). I sized it up a bit so it would fit my 108-stitch calf by incorporating the Whorl motif (p. 29).
I have to give a big shout-out to Nona – I'm once again using the theory of yarn dominance, which I think makes a huge difference. Practically speaking, I'm picking the dominant color (blue) with my left hand, and throwing the background color (yellow) with my right. In addition, I'm lessening the stripe jogs by the method she describes here. Nona rocks.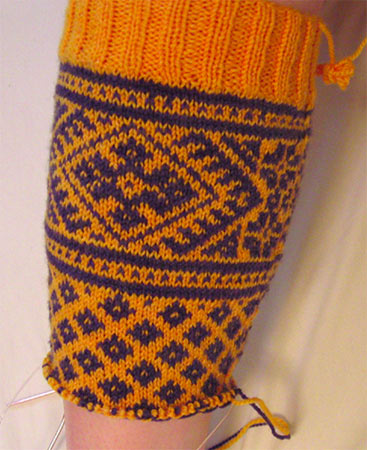 I'm still deciding exactly how the rest of the leg will look. I initially planned to have one back seam where all the decreases would take place, like Eunny's mini-argyle stockings, but now I'm reconsidering. I think two side seams, just like on the Blue and Cream Stocking, or the soon-to-be-released VK sock, will be more practical. Two seams will allow me to decrease 4 stitches per round rather than just two, and considering 108 will need to turn into 54, that's a serious consideration for those of us with shapely (ahem) calves.
So, tell me – are you experiencing serious Fair Isle envy? Yeah, baby! It is a most delicious technique ;).
Speaking of, Miss Knotty asked, "What is a good 'tryout' project for a first-time fair-isle attempt?" Miss Knotty, and anyone else who might be thinking of trying Fair Isle – I think you should look for a small project worked in the round on one circular needle, preferably using thicker (than sock weight) yarn. Of course – a hat! My favorite book for truly drool-worthy FI hats is Charlene Schurch's Hats On!, which features cute designs in a range of sizes.
Now, shoo! Go Fair Isle your heart out!
0
likes