My knitting seems to be picking up again. Several of you mentioned the "late summer knitting blahs," but I don't think my recent ramblings are indicative of malaise. Rather, it's simple indecision and feeling torn about what to start, complicated by some travel plans, a rather hectic September, and a stubborn commitment to Classic Silk :).
In fact, I find myself more interested in knitting now than I have in a while. I whipped out that Estonian stocking in only three weeks, for example. By the way, thank you for all your compliments! Several of you commented on the arch shaping – it is quite ingenious, I agree! This entry has more pictures and summarizes my thoughts about it.
Continuing with my current knitting happiness, I'm even toying with the idea of writing up the pattern for this beaded hat. Also, some audio knitting content will be coming up in the near future; I'll tell you more soon.
What else? Following the lead of no fewer than five of my readers, I finally purchased some Classic Silk! Thanks, guys, for letting me know that Herrschners had it on sale ("had" rather than "has" because it's now sold out 🙁 ). I had a code for free shipping, too, so I was pretty thrilled! I got a sweater's worth in Cobalt, which is perhaps a weird choice for me (I'm not a huge fan of blue), but having seen it in person, it's a really lovely color that I think will work for me.
I'm not sure I'll be starting the sweater right away. Actually, I'm still not decided which sweater it will be, though one in particular is a top contender :). I'll think about it more seriously when the yarn arrives.
In the meantime, I've started another sock to pass the time. I don't want the wisteria socks to end, but that will be the case shortly, sniff, sniff.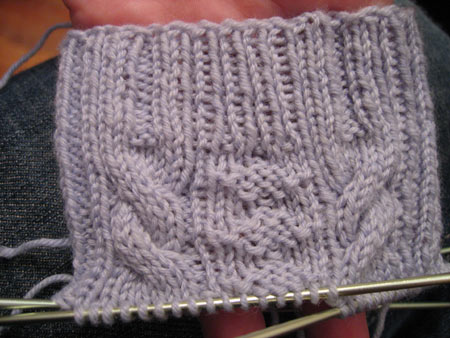 The last time I saw my grandma, I showed her some of my favorite sock pattern books to see if she liked any in particular. She was, of course, adorable, sliding her finger over the photos in Knitting Vintage Socks and exclaiming how they looked so real, she couldn't believe they were only photographs (oh, grandma!). Anyway, she seemed to have a particular affection for cabled socks, so I put that on my "to knit" list in addition to a picot edge.
I sized up the pattern to 67 stitches to fit her foot (it's written for only 51!), and I'm finally using the long coveted Regia Silk. It is a very nice yarn, soft and fluffy and slightly shiny… but my spoiled self still prefers Lorna's Laces. I feel nearly embarrassed to be so choosy, to prefer Lorna's to Regia. What silliness! I know I'm extremely fortunate to have access to every yarn under the sun, to be able to afford these yarns, and to knit as a hobby, rather than as a necessity.
0
likes