You came, you saw, you commented…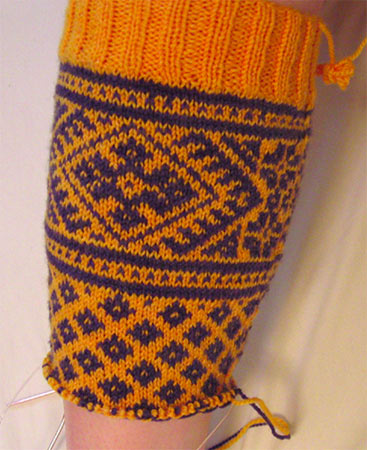 (sorry for the sub par photo) … and I did whatever the hell I wanted anyway. Mwahaha! (it's my blog and I'll knit what I want to, knit what I want to, knit what I want to, you would knit too if it happened to you) (now, please, do go ahead and imagine me singing that out loud, as I tap my feet and sway my booty. Because I do do that ;)).
Seriously. The comments were eye opening.
Example: someone said the stripes would be too simple. I thought about it and agreed. Someone said the faux plaid would be too dark. I thought about it and agreed (this, by the way, was my original favorite. I'm tucking away the pattern in my memory, because it's quite eye-catching, even if it's not right for this project). The snowflakes, too whimsical. Agreed. The specks would be too simple. Indeed.
But what I've got now, it makes me happy.
This is baby's second Fair Isle, so tell me if I'm completely off mark.
You know how I chose the new pattern? I looked (about 40 times, from every angle) at the photo of the sock in progress, and asked myself, "What element of the top band was most pronounced?" To me, it was the rhombus nature of the whole thing. Rhombus connected to another rhombus, encapsulated in another rhombus, bordered by more rhombuses…
And that was that. I took one of the little rhombus elements, put it next to another, made sure that the spacing wasn't too close (otherwise, too much blue, as someone appropriately warned me), and started knitting. I'm finding that with Fair Isle patterns in particular, you have to actually swatch/knit to see if it's right – all the fiddling around with charts is only half a step in the right direction.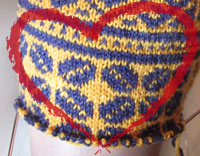 But there's a problem. I'm already bored to tears by the thing. I consulted the chart (more like chart-ette, it is so tiny) for the first half of the first round, and then didn't need to any longer. Yawn! Too simple. On top of that, something new has captivated my attention…
I love the rejected motif. Someone finally pinpointed what it looks like – coffee beans! I couldn't put my finger on it, and it doesn't help that I'm not a coffee drinker, but that's precisely right. Isn't it dreamy? Mmmm… I have a plan for that motif, but it first requires me to rummage through my stashette and possibly purchase some Koigu. But no time right now – busy weekend. See you soon!

0
likes