Carolyn, you may wish to close your web browser and step away from your computer right now. Because I don't want to scare you away, I want you to continue to be my Internets friend, okay? 🙂
Seriously. Name one knitter who's more prolific than Carolyn. No one, my friends, no one. Maybe if I had a dozen nieces and nephews I'd be cranking out projects all the time, too. Whatever the reasons, I find that Carolyn's FOs always come to mind when I'm considering one project or another.
I'm going to be taking a trip in a few weeks, one which will provide me with 14 hours of knitting time. Don't "Get out!" me, I'm not joking.
Originally I had planned to take grandma's wisteria socks with me, but I think I'm going to finish them before I leave. The Estonian sock will be done shortly, too (besides, I don't consider it a good trip project). I could cast on for another pair of socks, and I still might, but as of today, right this very moment, I'm feeling very socked out. Ug. I need a little break from socks.
Alright. Next idea – sweater. I have two that I want to knit, both from Knitting Nature. I even know what yarns I want to use! But I'm sitting and patiently waiting for the yarns to go on sale, somewhere, anywhere, because I just can't swing the expense of a sweater's worth of yarn right now.
Moving right along – scarf or shawl. Despite the hit that was Sharfik, my dad needs a new scarf (it's a long and gory story that I must tell you one day). I'm being choosy with the yarn for Sharfik 2.0 because Karabella Aurora 8 was a little too thick for something so heavily cabled, and because it pilled like a mofo. Until I work out a yarn solution, it will have to wait.
Then I promised a shawl for a friend (you know who you are), but it will be worked on US 0 needles with thin laceweight silk, and starts out by casting on hundreds of stitches. I'm already having a hard time envisioning such careful knitting while looking out at the scenery, chatting, contemplating lunch options, trying to avoid carsickness, etc.
Oh my God, this is so long-winded. Are you still with me?
While rummaging through my stash the other day, I came across some luscious silk blend yarn that Siow Chin sent me when we had a little exchange back in the spring. I had immediately pegged it to be a scarf or small shawl for myself, since the color is a perfect match for me.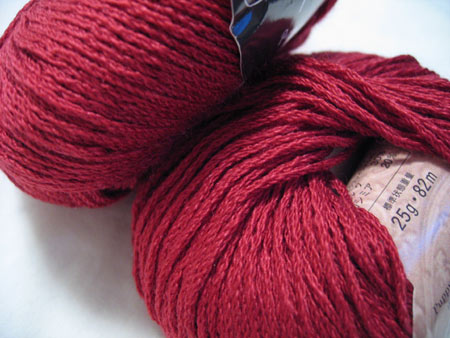 Everyone has their vision of hell. Mine is accurately photographing red.
Wouldn't it be great to knit that up on my trip? I can use some new knitted accessories just in time for fall.
I'd want a very simple pattern – no more than a few lines of instruction, and a small chart or two. I want the final product to be on the petite side so it can fit under my jackets. Conveniently, I have 538 yards of sportweight yarn, which should be enough for a project that size. A project like, like…
Enter Carolyn. I have wanted a Shetland Lace Shawl from Wrap Style just like hers forever. That same size, that same consistency… I think the pattern is exactly the type of thing I can handle on a trip.
But wait! I've also admired Carolyn's Diamond Lace Fantasy shawls (here and here). Again, they came out the perfect size – enough to warm the neck but not trip you. That pattern should be pretty easy, too. So many choices!
I also don't exclude making a Leaf Lace Shawl (again) because I already have the pattern and know the ins and outs. I really do love it – there's a reason so many of these puppies have been knit up all over knitting blogs.
Or should I just cast on for a sock? Tried and true, perfect trip knitting. I bought some Regia Silk after Carolyn raved about it all over her blog and I know grandma would love that on her feets…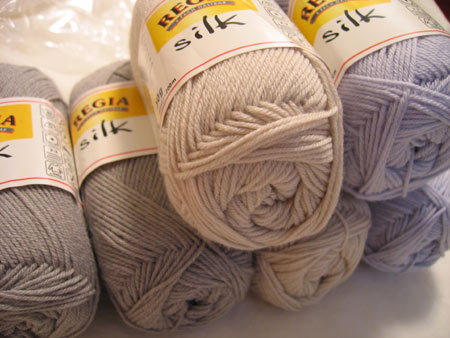 What will Carolyn put into my head next? I'm already lusting after most of the stuff on her blog!
0
likes