Well, it's definitely pooling something: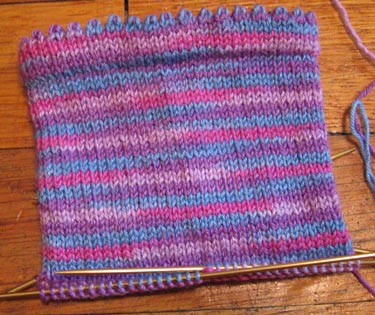 …but I don't know if I'd call it "terrible." What is this? Pooling, striping, pooling and striping at the same time? Should I just shut up and count my lucky stars that it's not doing something more obnoxious? Hehe :).
I do like watching the stitches change color. It's rather mesmerizing!
In case you want to reproduce this effect on your own needles, I'm knitting the sock on US 0 needles, over 68 sts, at a gauge of 8.5 spi.
Here's something that's giving me more of a headache, however: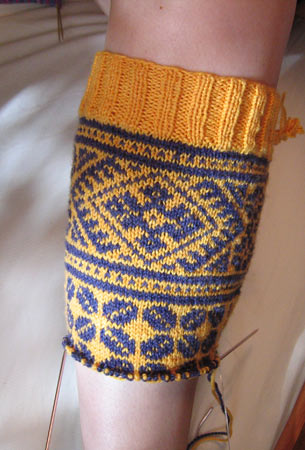 I'm not digging it. The scale of the pattern I chose for the lower portion of the leg is all wrong, I think. Compared to the delicate intricacy of the top band, the chunkiness of the lower half is way too much. Unbalanced, in more scientific terms.
Solutions? Gotta use something smaller in the lower portion. Contenders? A few.
(1) Simple stripes like Ilmar's Socks, (2) pseudo-plaid from Avo's Mittens, (3) little snowflakes from Anv's Mittens, (4) little specks all over, like the Lithuanian Amber Socks (Folk Socks, p. 104) (I hope the Estonians forgive me for shoving another Baltic nation into their sock).
What do you think? I started out having a favorite, but now that I look at all four choices side by side, I'm not sure anymore. I urge the Fair Isle gurus to come out of hiding with advice for this one ;).
0
likes