Update on kitty/bum mat interaction: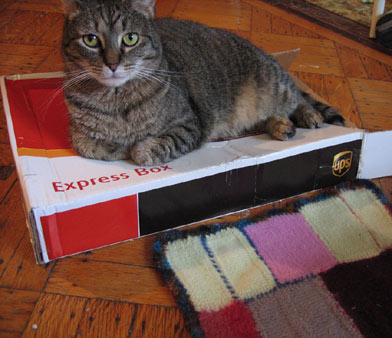 I am Kitty, and no one tells me where to put my bum.
Kitty prefers the empty UPS box to felted bum mat 100% of the time. No sweat, little kitty, not everyone likes felted wool. I will show my affection in other ways ;).
——-
Have you ever been curious about the voice behind this writing? Want to know what I sound like when I speak, in real life? I recorded an audio book review of Norah Gaughan's Knitting Nature for my friend Guido's podcast, It's a Purl, Man. You can listen to the entire podcast by clicking the show link, or subscribing to the iTunes feed. A mini-review of the book and some project photos can be found here.
0
likes