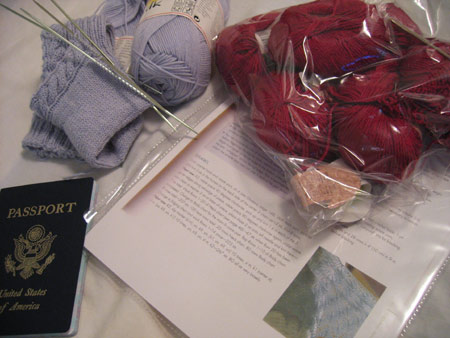 Looks like I'm all ready to go – other than a passport and my knitting, what else could I possibly need on my trip? 🙂
Coming with me: grandma's Whitby socks, which, between this and that, somehow got almost halfway done: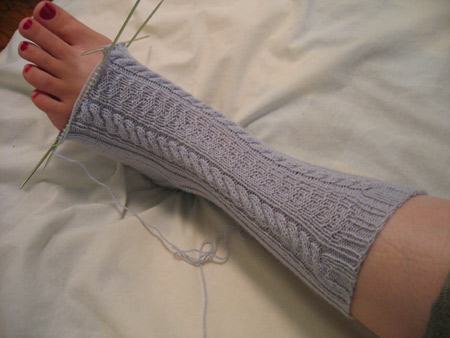 However, I intend to focus on the Shetland Triangle. As you remember, I started it ever so cautiously well before my trip, just to make sure yarn, needles and pattern were all in order.
I'm glad I did! Remember how something about the US 3 KnitPicks Classic Circulars kept bugging me? It seemed that the needles were too thin, even for 3s, and my hands kept itching for something slightly more substantial. Then, as I was passing the needle through the US 3 hole in my needle gauge with much ease, it came back to me: KnitPicks has somewhat unorthodox needle sizing! I've been using the 3.0 mm needles, which KnitPicks calls US 2 (and I'd call US 2.5, because it ain't fittin' through the US 2 hole in the needle gauge). No wonder my brain couldn't make sense of what my hands were feeling!
Anyway, 3.0 mm is definitely a stretch for this yarn, so I whipped out my tried and true INOX Express in a US 4 (3.5 mm), much better for this yarn, both in terms of size and feel. I reworked the first chart with the replacement needles… and I know I was supposed to supervise myself and not go any further, but I couldn't help it and worked one additional chart repeat. Oops! 🙂
One last thought before I must go (and bounce up and down on my suitcase to close it) – I'm delighted to announce the 450th Jaywalker submitted into the gallery – Marlena! Marlena says she's the unlucky-ish sort, rarely winning anything, but her Tiger Jaywalkers changed that in a jiffy: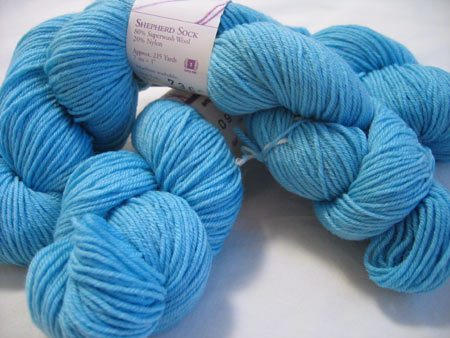 Congratulations, Marlena!
And now I'm off! See you in about a week!