I wasn't entirely sure how to state the following point diplomatically, or rather how to state it without appearing to be totally loony and hyped up on uppers. I guess I'll just come out and say it:
The winners of the gallery contest have the best tastes ever! I had so much fun raiding my stash and yarn shops near and far for their fantabulous prizes. No drudgery, no annoyance, no headaches, no turmoil. Pure shopping bliss ;).
Let me tell you how the whole prize thing works, because I think it will encourage you to keep submitting your FOs ;).
To be honest, I was open to getting the winners whatever their little knittery hearts desired. However, I decided that this was an overwhelming prospect and I e-mailed the winners a short but varied list of possible prizes, including all kinds of yarn, books, and needles. If none of my suggestions appealed, no problem – we would continue having a discussion until the perfect prize was chosen.
My yarn suggestions included my personal favorites – Greenwood Fiberworks and Lorna's Laces. I have a nice stash of both, and if the colors I have on hand wouldn't do, I could quickly and easily obtain more. Carolyn Greenwood ships as soon as you think about purchasing her yarn (how else could it arrive the next day, halfway across the country?). As for Lorna's Laces, I'm fortunate to have discovered Linda's store for all my LL needs – fantastic prices (even when shipping costs are considered), accurate color in photographs, fabulous selection, very quick and friendly service… there's a reason a link to Linda's store has been on my sidebar for months now ;).
After all was said and done, winners sampled from each of the prize pots – books, needles, and yarn. Through our discussions, some prizes were determined precisely and the winner knew exactly what she was getting, but in most cases at least some element of surprise remained. The bottom line is that there was a good amount of input from each knitter, in line with my firm anti-crap policy, and I believe everyone was satisfied.
In addition to a knitting prize, each winner received a bar of generic Whole Foods dark chocolate with almonds. You may be thinking this is a weird choice, but to my highly selective and experienced palate, this is one of the best dark chocolates out there. And at under $2/bar, well, it's a winner!
Okay, let me shut up and show you the stuff: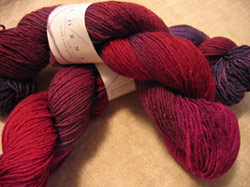 50th Jaywalker winner Jeanne received 2 skeins of Lorna's Laces Shepherd Sock in Valentine!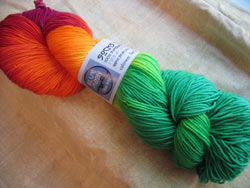 100th Jaywalker winner Ute received a skein of Blue Moon Fiber Arts Socks That Rock (lightweight) in Two Can Rock!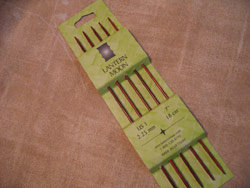 150th Jaywalker winner Sandra received Lantern Moon rosewood dpns with sock-friendly parameters – US 1 (2.25 mm), 7″ long!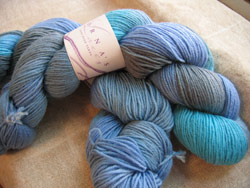 200th Jaywalker winner Liz received 2 skeins of Lorna's Laces Shepherd Sock in Cool!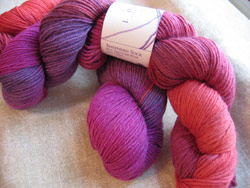 250th Jaywalker winner Dove received 2 skeins of Lorna's Laces Shepherd Sock in Irving Park!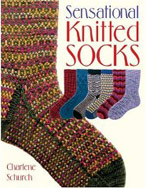 300th Jaywalker winner Bettina received Sensational Knitted Socks!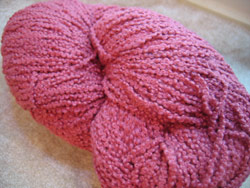 350th Jaywalker winner Silja received a skein of Greenwood Fiberworks in raspberry!
Did it pain me to part with this precious yarn? Yes. It hurt so. much. I took 4 Excedrin. Then my fabulous sock pal mailed me a skein of Denim and Khaki, and I felt supremely better.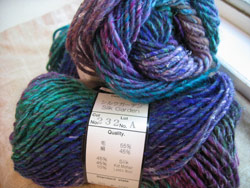 Non-Jaywalker gallery winner Ronda received 2 skeins of Noro Silk Garden in 232!

I know you're concerned – I'm getting all these prizes for everyone else, but what about some stuff for me? Please don't worry – I got some Lorna's for myself while I was at it (Denim and Wisteria, if you're curious, from Linda, of course). Were you really concerned?
So, the current Jaywalker gallery total stands at 376, with a handful already in line to be added. So close to 400! What are you waiting for?!?