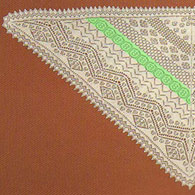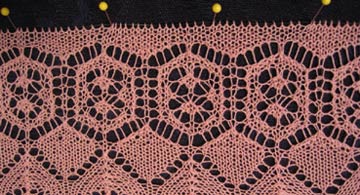 So I finished the next Mountainash pattern repeat (highlighted in green).
Big whoop de do. As Wendy would say, "do not alert the media."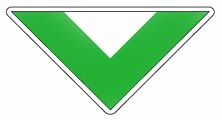 While I'm excited to show you some progress, any progress, I must admit that Mountainash and I are no longer in love.
Part of the problem is pure bitterness. You see, I knit the green section in question twice. After completing it for the first time, I noticed a small mistake about 16 rows down.
This mistake… let me put it to you this way – you wouldn't notice it unless I pointed it out with arrows and circles and a variety of other highlighting mechanisms. I wouldn't have noticed it, I think, if I didn't have a coffee (well, my version of "coffee" – iced decaf latte) that particular Saturday afternoon.
But I saw it, and what is fixable must be fixed. I dropped the yarn 16 rows, and actually picked it up rather successfully. But something was still not quite right. I dropped it again, started picking it up, and at that point it became clear to me that it would be quicker to just reknit the damned thing. So I frogged 16 rows and started over.
What is fixable must be fixed.
Level of bitterness is directly proportional to amount of stupid fixing that must be done.
Another part of falling out of love is that the challenge, the excitement, the thrill are now all gone.
I figured out the Japanese characters (more or less), with some help I figured out the instructions, and I have a pretty good idea now about how the whole thing is constructed. It is no longer this mysterious, exotic pattern, filled with conundrums that keep me up all night.
To add insult to injury, the remaining knitting repeats are very simple – the only thrill is doing a double decrease on stitches which have been previously simply knit. [insert sarcastic voice] Oooooh! [end voice] Come on! Throw a googly moogly my way or something!!!
So. Boring.
We need therapy. Okay, only I need therapy – how do I maintain excitement and motivation about a project which no longer keeps my interest?
On the other hand, while knitting what seems to be the most boring shawl ever I've been doing a lot of thinking. I have compiled in my head three things I find incredibly odd about this pattern.
What do you think about the following? (opinions of experienced lace knitters are particularly appreciated)
The pattern combines both stockinette-stitch and garter-stitch lace sections. The green one above is garter, and the one immediately below is stockinette, for example. Why?
The decreases are not paired. You expect certain motifs to be framed by k2togs on one side, and SSK (or whatever alternatives) on the other. This is not the case. In fact, I do not think I've used a left-leaning decrease of any kind even once. Why?
On the wrong side of garter-stitch lace sections, the decreases are p2tog, while the rest of the stitches are knits (obviously). Wouldn't it make sense for the decreases to be k2tog, to maintain the whole garter stitch nature of thing?
In conclusion, blah and yawn. Someone pass me a new project.
0
likes