You may remember that at one point I was assigned a Sockapaloooza sock savior. My sock savior immediately proved to be an interesting gal, sending me humorous and intriguing e-mails as "Mystery Sockatista." I knew I'd be in good hands with this one ;).
But then my day was made when I received a gorgeous pair of socks from my original Sock Pal. I wasn't sure whether I would still receive anything from my Mystery Sockatista, or whether her efforts would be better utilized in another sock savior case.
After seeing that I wasn't abandoned after all, the Mystery Sockatista sent me another e-mail saying that she had already completed the first sock of the pair. It'd be a waste to just let it go, considering she put time and effort into choosing the yarn and pattern, and knitting it. At the same time, my feet were already socked by my original pal. So, she proposed to mail me the yarn and pattern specs for the second sock, so then I could complete the pair on my own. I agreed – okay!
And here it is! My day is made once again!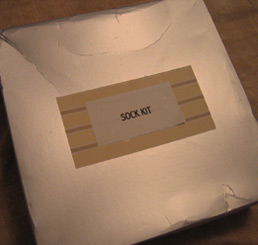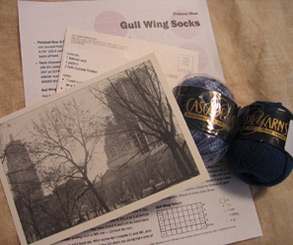 The "Sock Kit" included a lovely note with Fort Wayne, IN, on the cover, a postcard of the Fort Wayne Children's Zoo (The World's Finest Children's Zoo, it says), a sock pattern, 2 skeins of Cascade Fixation, and 1 beautiful sock! Complete with awesome colors, excellent fit, lovely pattern, and Fixation stretchy goodness!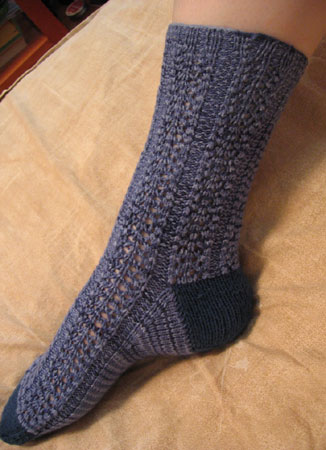 Details: Cascade Fixation denim (9030) for the main color and blueberry (2625) for contrast. Gull Wing Socks pattern by Vivienne Shen from Socks Socks Socks, with some modifications.
So, who is the Mystery Sockatista? She's Lynn from Stuff and Things and Whatnot! Thank you so much, Lynn, for this great sock kit! With one sock already knit, my motivation to finish the pair is that much higher.
0
likes