I apologize for the scattered nature of this post, and also for allowing some of your e-mails to ferment in my Inbox to an almost-pickled state.
As much as I try to run this knitting blog independent of my personal life, this is an impossible proposition at its very nature. Lately work and life in general have been frantic. Nothing bad, just everything sped up about fourfold.
I'll be more alert in about a week, and I appreciate your patience until then.
—–
Yesterday I was privileged to witness the knitting wedding of the year! It was beautiful and uniquely special, and no fewer than three people (Omar's mom, Greeley, and Katie) busted out their knitting. I wish Betsy and Omar many happy years together.
—–
There has been some knitting progress! Well, there has been no actual knitting, just progress in locating a cute pattern.
My, oh my! Did you catch that?!?
I found a cute pattern in a new-to-me book while browsing the shelves of Barnes & Noble this weekend. I requested the book from the library (it's just one pattern, after all), and even have a yarn in mind already. I'll report more when I have something substantial to say.
—–
There has been some sewing progress! Well, there has been no actual sewing, just progress in locating a sewing teacher. I don't want to get ahead of myself, so I'll report when I have something more substantial to say.
—–
As for the needles, we've done it, haven't we?!? Hehehe…
Thank you, everyone, for writing to Ms. Skacel Haack. I understand that she has received many e-mails expressing interest in pointier Addis, and that several of you even received a response from her! (I haven't yet, but I'm sure I will).
She writes, "We at Skacel now know there is an interest in pointed needles for lace knitting."
We've been heard!
To all the blunt Addi Turbo addicts, do not worry! "I would like to clarify that Skacel has no intentions of discontinuing the addi Turbo line as it currently is… Now that we are aware that there is a desire and need for quality, pointed, circular, lace knitting needles, we will see what we can do to fill that need."
A full copy of the response is in the comments.
I'm just overwhelmed, in a good way! It was so simple – Sheila sent me an e-mail, I wrote a little blog post, and now this! Could it be? Will it actually be? One day in my lifetime I can knit lace with ultimate pleasure and comfort?!?
We'll just wait and see ;).
And if you haven't sent an e-mail yet, what are you waiting for? Join the crowd! The more, the merrier! Once again, all the details are here.
—–
I realized that I've sort of let the 400th Jaywalker winner to go unnoticed! Oh, the shame! The others and their prizes were announced proudly, so let me continue the tradition.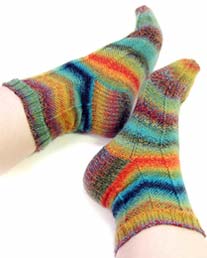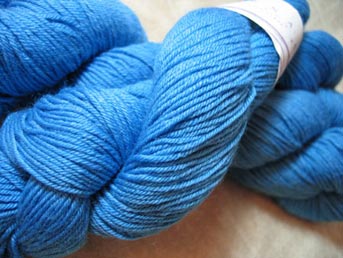 The winner is Not An Artist Michelle! As her prize she received 2 skeins of Lorna's Laces Shepherd Sock in Pond Blue (from Linda's store, of course). Congratulations, Michelle!
That's it for now. It feels like this entry moved fourfold faster than typical, too ;).
0
likes