If you're reading the abstract of this entry through Bloglines, NewsGator, etc., today might be a good day to come on over and visit the actual blog – I updated the color scheme! Please hit refresh!
It's all Purly's fault – I was inspired by her own recent color update, then prompted by her to change my own, and last, she helped me with the color selection! Thank you, Purly! Now I think my blog more accurately reflects my color preferences.
I know there are still a few glitches, namely the way some characters (quotes, accented letters, etc.) are displayed, and I'll fix that shortly. Also, I need to update my button to reflect the new colors. But if you see something else wonky, as always, e-mail me (especially since I haven't yet checked the blog on IE).
(knitting content below the sewing content)
I want you to be honest with me. About the sewing content on this here knitting blog: I talk about it a whole lot, and there is nothing to show because I'm at, like, level zero. Are you getting annoyed by this? It's okay if you are – tell me. Perhaps you're just amused…
On the other hand, I definitely know how to make a mitered square now, all thanks to you. Look!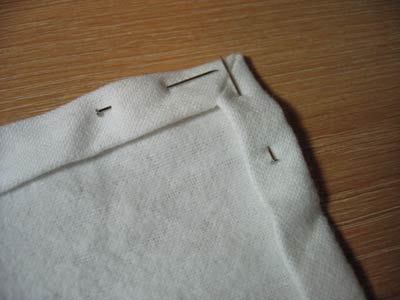 I forget exactly which link I ended up using, but I know I had to snip a corner to lessen the bulk (some of the sites suggested just folding the fabric under).
As for placement of my pins, which so many of you pointed out, I was just demonstrating the way I wanted the hem folded, it's a practice piece of fabric. At one point or another I did figure out that one does not put the pins going into the machine "head first." You should've seen me trying to wrestle the pin out from under the presser foot!
Anyway, I have another sewing question for you. What is this type of fabric called?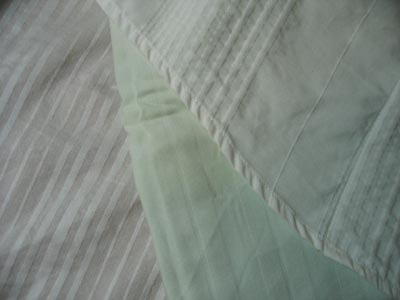 All are 100% cotton, very soft (the white are blouses, the mint is a duvet cover). As you can see, they aren't just a simple weave, they have a little bit of interest. I want to know what to ask for in the store.
Also, I've been reading Singer's The New Sewing Essentials, and am officially declaring it "a favorite." Just thorough (yet dumbed down) enough for me. I was going to ask you about making perfectly even seams, but there it is on page 17! What I need is a seam gauge (and I'm thinking tracing paper and wheel aren't such a bad idea either). Oh! Do you guys use water-soluble glue instead of pinning/basting? Page 20!
Okay, knitting.
Dad's socks. What happened?!?
Well, I was almost done with the second one. I started at the toe, knit to the heel, turned the heel, and then completed another two inches. All along I was noting that it was coming out bigger, both wider and longer than the first one. It was almost as though I had accidentally grabbed larger needles! But I hadn't. What gives? I have no friggin' idea.
Anyway, then I whacked myself across the face with a large sheet of Plexiglas. You see, I was on my way to the library and I was carrying the Plexiglas in a plastic bag in one hand and my purse in the other. I lifted one of my hands to scratch my face, and it was the hand with the Plexiglas, and then it was not good. Not good at all.
So I get to the library and I'm examining the damage in a hand mirror, and it looks okay but hurts like hell. I take out the sock, and instead of thinking (is it really that much wider than the first? do I really care that the second will be 10 rows shorter than the first in order to be the same length?), I just ripped. Every last stitch. Sigh.
Now I'm reknitting that sucker while paying more careful attention to my tension, because the only explanation I could come up with is that I was knitting the second looser than the first, for some unknown reason. Of course the stitches look all ugly and wonky: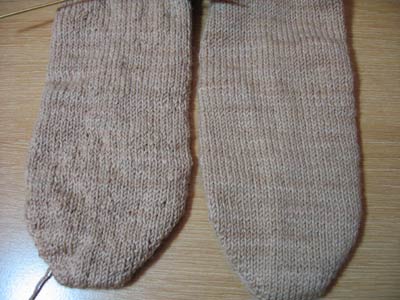 Yuck. I should've refreshed the yarn to un-kink it.
I think it's coming out the same as the first in terms of size. I think. Keep the Plexiglas away from me to avoid another wild frogging session in the library (while muttering every curse in the book under my breath).
Also, I would like to make a public plea to Santa: Dear Santa, please send me a dishwasher, a finished dissertation, and 2 extra hours every day, so that I may find the time to write something about the new KnitPicks needles. I know it's not Christmas. Nonetheless, I'm hoping you'll take pity right now. July 20th is as good of a day as any. Amen.
0
likes