Hey, look what I have and you don't!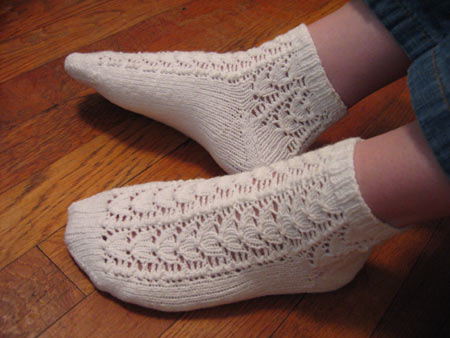 I'm sorry, but I have to gloat. I have the most perfect little socks on my hot little feet, and you… not so much. Well, maybe you do, but not like these ;).
That's right – my Sockapaloooza socks are finally here!
They are amazing. As you can plainly see, they are gorgeous, perfect ankle length, and fit just right. I love the lacey pattern, I love the perfect little stitches (I can tell these were knit with much care), I love the pure white color (shocking, but true), and I love the way they smell.
And there's more! My thoughtful pal included a skein of sock yarn which I instantly recognized as my favorite – Greenwood Fiberworks Denim and Khaki (it's no secret I stalk Carolyn's Etsy shop and know all the colors by heart).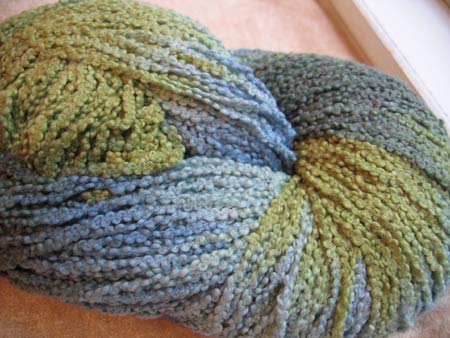 Oh, the fun I'll have with this yarn!
Dear Pal, thank you so much for knitting me this wonderful pair of socks. I waited, it's true, but, boy, you delivered!!! I'll go ahead and say I'm 2 for 2, a fantastic pair last time and this time, too. I'm so happy.
One lil' issue – my pal didn't sign the cute card she enclosed with the package, and her name doesn't appear in the return address. So I don't know who to thank! Along the same lines, I don't know the name of the pattern or what yarn these are made out of, although I strongly suspect Cascade Fixation or its elann equivalent. If you're reading this, my Pal, let me know who you are!
Sigh of relief – aaahhh!
Oh, another lil' issue – my sock savior. Maybe I'll be getting a second pair? I don't know!
Alison hasn't mentioned a word about another Sockapalooza, but if it happens, I'm not sure I'll be participating. Here's the thing – I would love, love, love to participate, but some of the comments you guys have been leaving (here, here)… they just make me sad and ashamed. And they make me think that I'm not welcome to be someone's pal. Maybe I'll do it anyway, despite all the alienating comments. And that's all I have to say about that.
Now, if you'll excuse me, I'm going to go and sniff my new socks.
0
likes