It's been a while since I discussed knitting technique stuff, hasn't it? Well, let's talk just a little bit about short-row heels and toes, interesting bind-offs, and why faking is such a good thing ;).
Remember the little sneak preview of secret projects I showed you here? Many of you correctly identified the picture below as the humble beginnings of a sock: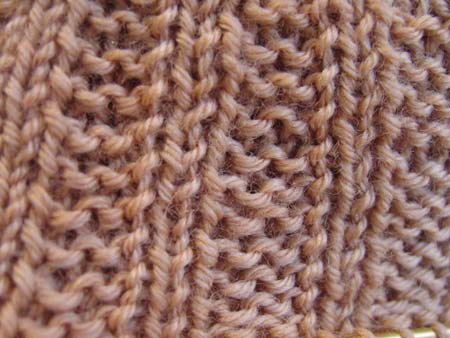 These are very special socks because they are for my dad. Of course! Dad socks are always special ;). Now, before you go thinking that this is some kind of belated Father's Day gift, let me correct you – I promised these to him during a phone conversation on February 11th. So, they are technically a belated gift for Valentine's Day, St. Patrick's Day, April Fool's Day, Daylight Savings Time Day, Passover, Easter Sunday, Earth Day… you get the idea.
Another special thing about these socks is that they are extremely well-planned. Zero element of surprise. My dad, in so many words, told me that he wants light-colored socks, and that the black pair I knit for him out of Lorna's Laces Shepherd Sock is the softest. Naturally, I went with LL SSock again, in the chino colorway. This is a very tasty color, like coffee with a lot of cream in it. Knowing that I hate brown and anything that even remotely resembles it, this is saying a lot.
Last time I visited my parents, I showed my dad several sock pattern books, and while he could care less whether his socks are 3 x 1 ribbing or moss stitch, he kept remarking on ones with calf shaping, that it seemed like they wouldn't bind at the calf. It quickly became apparent to me that calf shaping was the most important pattern element in his new pair of socks, and everything else was rather arbitrary.
So, I went with something simple (and I hope manly enough) – the Garter Rib pattern from Sensational Knitted Socks.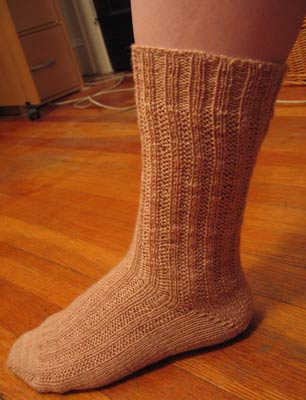 I knit this sock from the toe to the cuff, using a short-row heel and toe (I use Wendy's method). The majority of the sock is worked over 60 sts on US 0 needles, but then generously increases to 68 sts for the calf.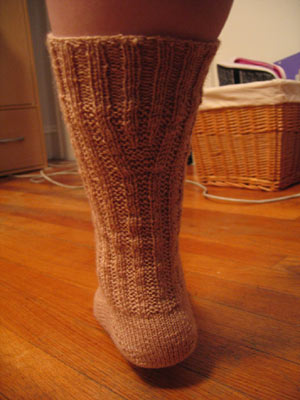 Sorry for the poor light, and also… damn, that thing needs blocking!
Every 6 rows, I increased 1 stitch in pattern on either side of the 2 sts that make up the center back. To finish, there is about 1.5″ of simple 2 x 2 ribbing to help them stay up, and a fancy lil' bind-off.
Work 2 sts in pattern (either knit or purl). Move yarn to back (if the last worked st was a knit, this is already the case). * Transfer the 2 worked sts to the LH needle, and k2togTBL. Work 1 st in pattern (move yarn to back if it was a purl), * repeat between *.
Important note: I use a larger needle to do the bind-off. Here the sock is knit on a US 0, and I used a US 1.5 to do bind off.
I learned this bind-off when knitting my mom's Leaf Lace Shawl and have since used it on all socks I've knit toe-up. It's very functional, I think. Definitely more stretchy than a standard bind-off, a lot easier to execute and frog than EZ's sewn bind-off (aka, backstitch bind-off or cast-on bind-off), actually understandable (in contrast to the "modified conventional bind-off" in Lucy Neatby's book, which always baffles me). The only competitors are the tubular bind-offs, which are quite neat and pretty, but for me not worth the trouble (see EZ's sewn bind-off), and not stretchy enough (see standard bind-off).
I want to share one more "tip," if you will, with you. It applies only to patterned socks, not to stockinette ones (although perhaps you'll find the information useful anyway).
Two inches is the magic number. When working from the cuff down, you know how when you knit a heel flap, you work back and forth for 2″, then turn the heel, pick up stitches for the gussets, etc.? And when you reach the toes, you start shaping the toe 2″ before the desired sock length? Okay, sometimes it's 2.25″ or 2.5″, but follow my argument for a moment. That number isn't arbitrary. Two inches is the height of an average heel, and the length of an average set of toes. Give or take, of course – I have stunted 1.5″ long toes, for example. It is pleasing to see a distinct design element, like a heel flap or the little bit of fabric that covers the toes, which matches in size and shape the actual part of the body it covers… Like making sure that the empire waist of a women's blouse actually lands where it's supposed to be. If it's not quite in the right place, it looks rather disturbing even if it functions fine.
When working short-row heels and toes, or at least when I work short-row heels and toes, I find that they come out to be about 1.5″ deep. If I made them more pointy, as some people like to do, they'd probably be a little deeper, but I don't think they'll ever make it to 2″. And I've realized that although patterned knitted fabric functions just as well as its simpler stockinette cousin, it looks kind of awkward when the knitted heel element worked using short rows doesn't cover the whole heel, anatomically-speaking.
So, I've recently gotten into the habit of making my short-row heels and toes appear longer. When working from the toe-up, after completing the short-row toe, I work another 6-8 rows (1 cm) of stockinette in the round, and only then start the pattern. As a result, the little stockinette toe cap fully covers the little toes! Similarly, after turning the heel, I will work 1 cm of stockinette above it before starting the pattern. It's just a visual trick, but I think it works!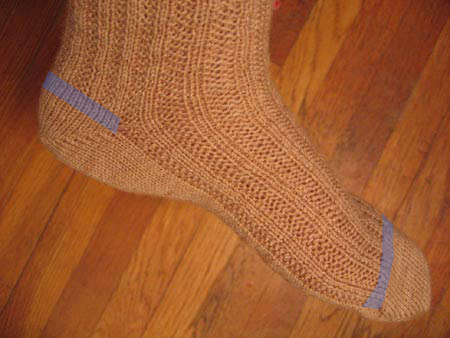 Blue showcases the "fake" bits.
2
likes