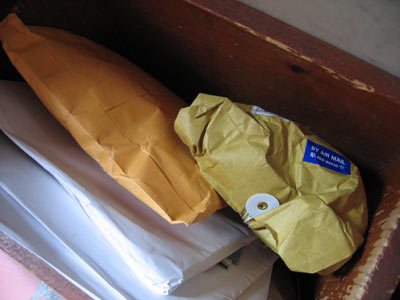 Could it be?!? Could it possibly be? Is it for me? Is that my… Sockapalooooza socks? Ooo, ooo! Look at the one on the right – "By Air Mail" – an international pal!
The international package is for my neighbor, Ms. J., and we all know I simply love her and all her little packages. The package on the left is for me, but it's not my socks (no further progress in that department since this post. I remain patient and optimistic :).).
What's in the package on the left? Simple: an instant mood-lifter! You know what I'm talking about – open it up, and a big smile sneaks up on you :).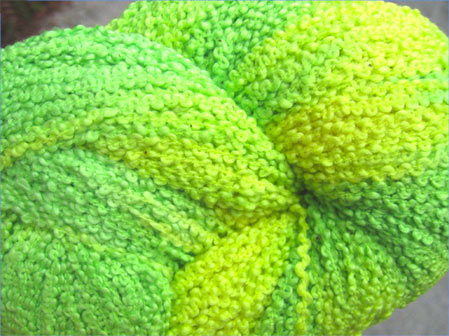 I needed to adjust the colors of the photograph because I'm not used to photographing, uhm, neon stuff. I think what you see is pretty accurate, believe it or not :).
I've been so into combos of yellow and green lately, so I jumped on this yarn when Carolyn put a skein up for sale. I think a simple stockinette pair of anklets for me will do the trick, and there will be enough left over for some baby socks, I'm guessing. The bright and happy colors combined with cottony goodness scream summer to me.
In any case, now I feel better. Carolyn, once again, thanks for making my day :).
0
likes