Happy knitaversary to me,
Happy knitaversary to me,
Happy knitaversary, dear Grumpy,
Happy knitaversary to me!
And many more!
Yes, my friends, it's been two years since I learned to knit, and it's once again time for a celebration! Last year I entertained you with some truly hideous beginner swatches, and this year will be no different. I've got a shopping bag full of them, each one more "precious" than the next.
Here we have a marvel of artwork, complete with a huge hole, a very long float, and the use of two colors. What was I learning – intarsia, stranding, short rows? Who the hell knows! Do you spot the twisted stitches? Every freakin' wrong-side row.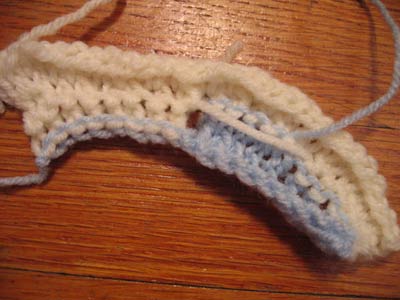 Here I practice the delicate balance of twisting stitches while making gigantic holes. Also, casting on too tightly. Everyone needs to know how to cast on too tightly. I'm so gifted.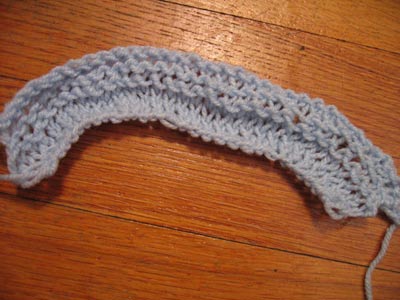 Check it out – stranding! But, oh, the floats are all wrong and the stitches, twisted. However, I remember being pretty darn pleased with myself after making that swatch. I figured, start with little white triangles, move to Starmore designs next.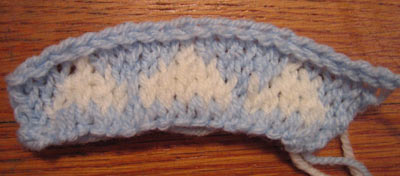 One of my first cabling attempts: so pretty, yet so… immature. And twisted.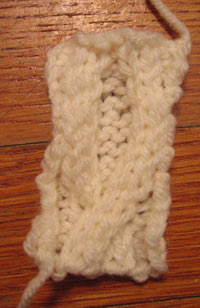 And just to demonstrate that I'm not a one-trick monkey, here is another attempt at crochet. Just look at that and try to tell me that it's not marvelous. Just try! I'm Queen of the Hook!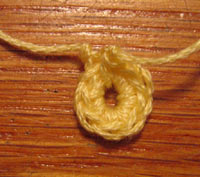 I'm pretty pleased with the way my second year of knitting has turned out. I feel I've learned so much, refined my technique, got to a point where the physical stitchery was no longer the limiting factor. Rather, the fit, the fabric, the line, the design keep my mind buzzing now.
I designed a few things, re-designed many others, learned to spot and correct pattern mistakes, acknowledged myself as a process knitter through and through, firmly formulated my ideas about sweater fit (negative ease, anyone?). I dared myself to undertake more and more challenges with each project, created a satisfactory amount of havoc and trouble, even knit a few hats!
I became more engrossed in the knitblogging community, participated in many exchanges, made new friends around the world. It's all been very good. I see no limit, I do not feel like I know it all, I keep pushing and pulling and biting my pencils and marking up charts, and writing and knitting and frogging, then knitting some more, and reading and being affected, influenced, inspired… and thinking. Always thinking, always up to something, at least in my head. So, cheers, everyone! Here's to another year of happy knitting!
0
likes