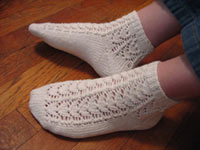 I had a nice e-mail exchange with my pal last night, and she gave me some information about the socks: she confirmed that the socks are knit out of Cascade Fixation (love it!), and that she used the Knitting at KNoon Garden Partie pattern (again, love it!). Thanks again, pal!

Today will be a quick post – let me show you the progress I've made on the Egyptian dress, which has been consuming 95% of my knitting time (due July 7th, yikes!).
I completed the slit, and am now working in the round. Have I made it abundantly clear that I think Annie's designs are the most clever ones out there right now?!? I thought so. Observe how seamless the pattern appears in the round. No jog, the eyelets appear as elsewhere, it's just amazing!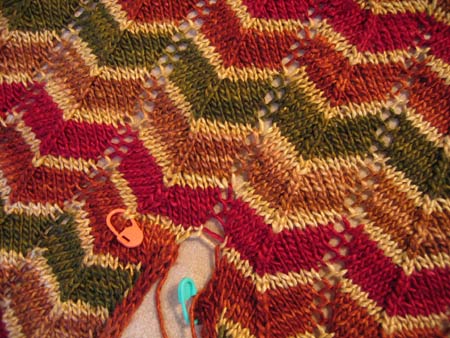 Ignore the mess at the top of the slit – it isn't finished yet.
I'm once again carrying the light yellow in the back while working with other colros. I've found that it's now more invisible and easier to execute than before, I think because there isn't an intarsia-ed (making up words) border to worry about anymore.
Somewhere around mid-thigh, the stitch pattern is modified for modesty – the eyelets are closed in the most clever fashion, with no immediate and obvious interruption.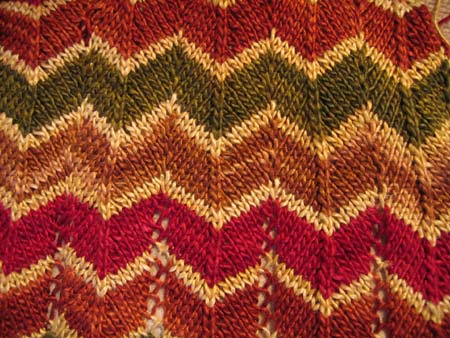 Love it!
To give you an idea of how far along I am, here I hold up the work up to my body: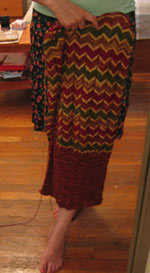 So much completed, but so much more to go! All other projects on hold, except when I need something portable. Better get moving!
0
likes