What is bad blogging material? This right here: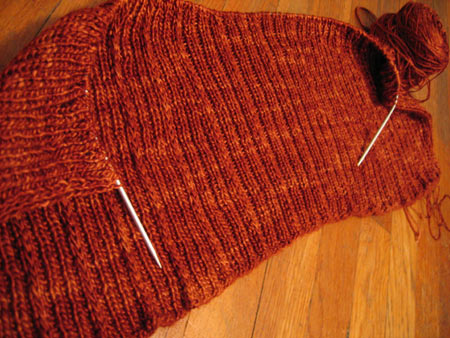 The dress I'm knitting for Annie Modesitt's book starts out with 8 inches of (more or less) 2×2 ribbing, worked over the entire dress circumference, 36″, 240 stitches.
This is no joke. The amount of work, the number of hours that's encapsulated in that little photograph is enormous. Of course knitting with this luscious silk that smells like green tea made each stitch entirely pleasurable, but, boy oh boy, I'd rather sit on a sharp dpn than give you an inch-by-inch report, you know what I mean? Your eyes would glaze over in a second! Mine too! Therefore, bad blogging material.
The ribbing is now done, and the good blogging material begins. First, I will be starting the chevron and eyelet pattern, finally! Second, I'm going to start making stripes! And last, very soon (relatively speaking: in another 8 inches or so) I'll be joining the whole thing in the round, making a slit in the process. Oh yeah!
Stay tuned ;).
But before I show you more silk dress progress, I will be participating in the first challenge of the Amazing Lace. I have until midnight on Sunday to post my entry, which should give me plenty of time to finish writing the… ahem… saga. Again, you'll have to stay tuned ;).
0
likes