It feels great to be past the ribbing on the bottom of the dress I'm knitting for Annie's book. I'm rather excited to show you the lovely eyelet and chevron stitch pattern that makes up the rest of the garment. I'm guessing this is a much better sensory experience ;).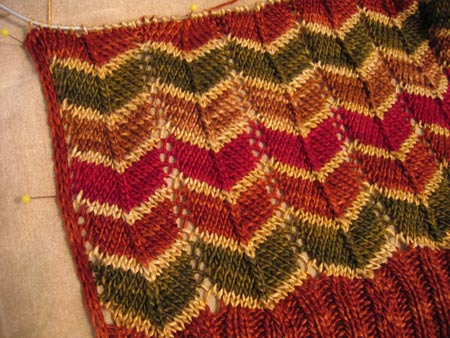 The colors in these photographs are simply craptastic, but since there will be no sunshine until Monday, this is the best I can do for now. I'm most upset about not being able to capture the red – it looks very raspberry in the photo (taken in artificial light), but is more of a lip-puckering merlot in real life, a Grumperina kind of color ;).
It is always the case that at least one element in Annie's designs (and often more) causes me to exclaim, "clever!" Look – notice how seamlessly the brown edging frames the slit of the dress, and how well proportioned it is when compared to the rest of the fabric. Brilliant. The edging also looks neat and professional on the wrong side.
The edging is Annie's signature modified i-cord. In the stripey chevron section it is attached by intarsia, but in the ribbing below, where no color change is required, it is worked at the same time as the rest of the fabric.
Many have noted the cleverness of this here edging. Off the top of my head (and this is just off the top of my head, people), you have seen this edging on the Backyard Leaves and Alison's scarves designed by Annie (a link to Alison's scarf pattern is available on Annie's blog), a wrap sweater I knit last summer, Ms. Amelia Raitte tells us all about it here, Kenny is knitting a scarf for the same book, and his project also incorporates the edging, and Colleen calls it "my finishing discovery of the year" here. Everyone has noticed!
The other slit, or rather, the other side of the same slit, has been a little more tricky for me because it has many things happening at once: the intarsia for the edging, changing colors for the stripes, yarn overs, and I've chosen to carry the light yellow yarn up the edge because it's needed fairly frequently. Still okay, I think.
In any case, I'm now precisely at the point where the slit is closed up and the rest of the dress is worked in the round. Goodbye, edging, it's been great working with you ;). Although I won't be able to properly model the dress for you (the sample is sized for a model, and I'm… not), for now I can still show you how far I've knit: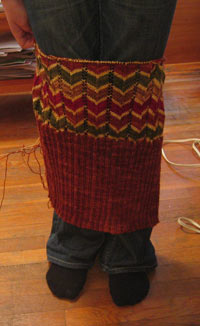 Much more to go, and I'm still looking forward to every stitch ;).
0
likes