Have you been following Carolyn's tragedy with the Basalt Tank from Knitting Nature
? It appears that this pattern is absolutely ridden with mistakes, the sort of careless errors that drive us all berserk.
But you know what, the Swirled Pentagon Pullover wasn't perfect either.
I know I've raved about this sweater and about its sizing, and I stand by my word – the proportions are so correct, it's mind-boggling. My mouth is still wide open, and Ivete shares my amazement. I've already noted that another sweater from this book that I'm considering has proper measurements, too (yay!).
However, don't mistake "good proportions" for "well-written pattern" ;). Do you know what I mean, the difference between the two? While the Pentagon pattern was written correctly for the most part (I found two small typos), I still don't know what went wrong with the pentagons, why they came out so funny looking, and why I had to change how they were knitted so drastically.
Nonetheless, I'm shocked that the Basalt Tank is so poorly written, and I'm glad Carolyn is reporting her experience – makes me more cautious. What's the verdict – is Knitting Nature a winner or a loser?
One thing for sure: this is a loser. Looooooser. Say it with me, loooooooooooooser.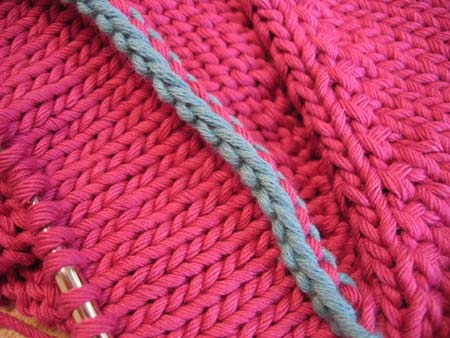 This is Debbie Bliss Cotton Silk Aran, and it knits up as stiff as a bathroom rug. As it ends up, I'm not attempting to make a bathroom rug, nor, say, a bulletproof vest, so wild frogging ensued.
But this… this is a winner ;).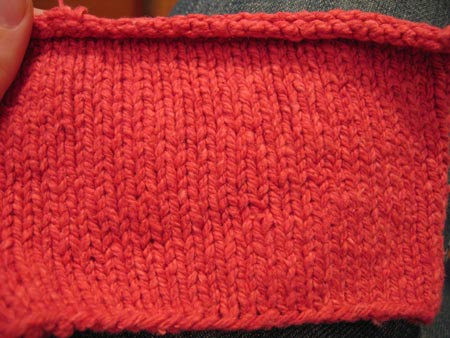 A new yarn from Classic Elite called Classic Silk. It is 50% cotton, 30% silk, 20% nylon. It has a slight sheen in sunlight (no sunlight at 1 a.m., unfortunately, so I can't show you), and a tweedy non-wooly goodness rivaled only by Tatamy Tweed from Kraemer Yarns. It knits up soft, sure, but then… woohoohoo… then I disregarded the care instructions and stuck that swatch in the washer and dryer. It came out terry cloth soft. And drapey. And perfectly stretchy. Everything Cotton Silk wished it could be.
I just want to take that swatch and put it under my shirt and enjoy the softness. Is that so wrong? 😉
0
likes