After I finished the first sleeve of the Pentagon Pullover, I decided that I would knit the yoke next. Considering that the yoke only needs the front and the back to be attached, I figured it would be a good idea to at least start it, and then come back and knit the second sleeve, in case working on the yoke would obviate any sleeve cap changes. Here's a reminder of how the pentagons cleverly form the yoke, and the order of their assembly. And here's what it looks like in real life:
From left to right: One side of the pentagon is attached to the body of the sweater, while the rest of the stitches are held on free dpns. Decreasing towards the center results in a pentagon that ends up resting on the left shoulder. The second pentagon has three sides attached to existing fabric, and two free. Decreasing towards the center results in this: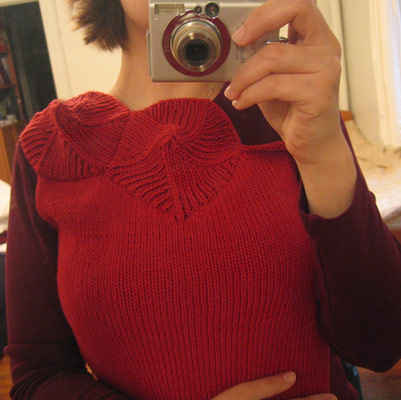 Good? Oy, not good at all.
No knitting project is perfect, and I was getting mighty suspicious of this one, working out so perfectly 'till now ;).
There are two issues, a big one and a small one. The small issue is this cone-like puckering in the center of the pentagons. The original sweater is knit from an angora/wool/nylon blend, which is quite drapey, and quite amendable to blocking: great choice of yarn to conceal even the tiniest puckering tendencies. My sweater is knit from a wonderful cotton/acrylic blend which holds texture very crisply, and won't block in the same way. Not to worry! I've deal with issues like this before! Quick, someone hand me my Montse
, I have to look up the different kinds of double right-slanting decreases!
The big issue (literally) is that the pentagons are too big. You can see in the photo above the pentagons creeping up way beyond my collarbone. Below, I place my hand-knit sweater on top of a store-bought one that fits me well. Remember, there is still a small crewneck collar to be added, but the pentagons are already covering the modest neckhole of the white sweater.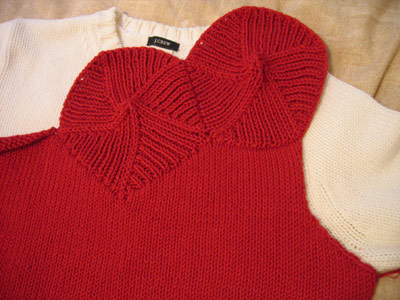 Why this is happening is more of a puzzle. I want the pentagons to be exactly the size specified in the pattern, 5.25″ high, but mine are significantly bigger (about 6.5″ high). Compared to the pattern, my needles are two sizes smaller, my yarn is thinner, my gauge is tighter, yet my pentagons are coming out… bigger. I wonder if there's a typo in the recommended needle size? Whether they meant US 6 instead of US 9? In my mind, this is a distinct possibility.
Well, I have to frog and figure this out, my friends. Stay tuned for the results!
0
likes