The season of favorites continues.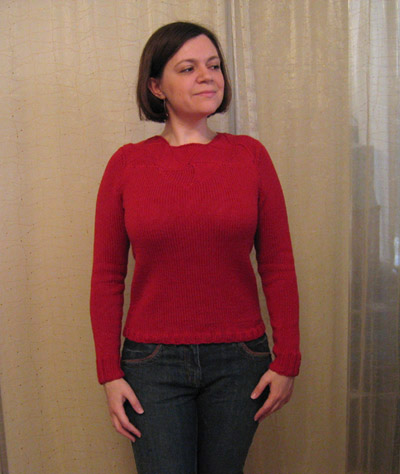 I'm freakin' squealing with joy, my friends, this top is a Winner!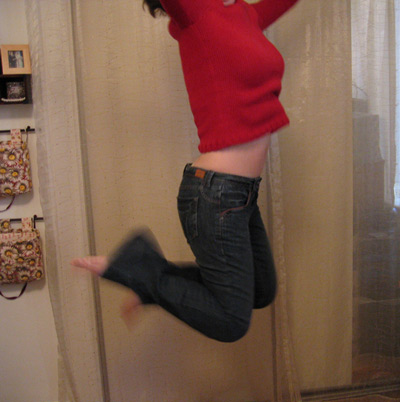 Pattern: Swirled Pentagon Pullover from Norah Gaughan's Knitting Nature
.
Yarn: Gedifra Korfu, 50% cotton, 50% polyacryl. Color #2022 ripe tomato, 11 skeins. I loved working with this yarn – beautiful stitches, easy on the hands, flies on the needles, blocks like a champ, and doesn't have a schizophrenic personality when it comes to maintaining gauge. I'm stalking elann in case they get more.
Needles and gauge: Blunti Stumpos (because I'm clearly a glutton for punishment), US 6, for everything except the ribbing, which was worked on a US 5. Stockinette gauge for this project (after blocking and ironing): 19 sts and 26 rows per 4″ square.
Finished dimensions: bust 36″, waist 31.5″, length to shoulder 22.75″, armhole depth 7.5″, sleeve length to sweater body 19″ (for reference, my bust is 39″).
Modifications: compared to other projects, I hardly changed anything! I basically knit the smallest size, and adjusted for my different gauge along the way.
Little changes: used 2×2 ribbing, lengthened the body by 1.5″, and lengthened the sleeves by 1″.
Medium changes: added some waist shaping, but because this is a more sporty, straight sweater, the hips and waist do not differ significantly. I also omitted the turtleneck collar, and even the originally-planned simple crewneck collar: because of the way the pentagons are cast on, the collar had a very nice finished edge without any tinkering.
Thoughts: I've been telling you all along – I love the clever construction of this sweater. The way the pentagons come together to form the yoke – genius! The way the back is raised with another half of a pentagon – genius!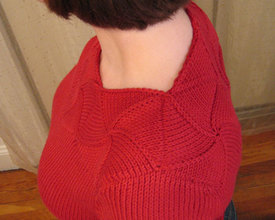 I feel compelled to reiterate that the finished dimensions in the pattern are, for once, correct (at least for my body). Batwings? Not a chance! Shoulder seams which land at mid-bicep? Sleeve caps which make absolutely no geometric sense and require nothing short of a miracle to actually fit into the armhole? A neckline that leaves little to the imagination? Not here! I didn't have to use graph paper, and for that, Norah, I want to give you a big smooch! Yay for writing a well-fitting sweater pattern!
Will there be more Knitting Nature projects for me in the future? Uhm… a firm "yes" ;).
0
likes