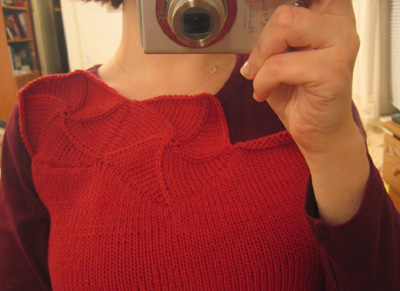 No one ever said I play by the rules. Bwahahaha!
Okay, my friends, I think it's time for an explanation, especially considering some of your responses to my last post.
I'm not sure it's useful to look at the finished sweater as worn by the model. I certainly don't want mine to be as baggy as the one on her – that's not my style at all. So, let's stop looking at the way her sweater fits, and where the pentagons end up, okay? I guarantee mine will fit differently because otherwise I wouldn't wear it.
I know that according to the sweater schematic, the measurements of the smallest size match the dimensions of all my favorite sweaters exactly. This is incredibly serendipitous, and highly unusual – it's wonderful!
Therefore, it is my goal to knit a sweater the dimensions of which are identical to the pattern's smallest size. Very simple.
From this it follows that the pentagons have to be 5.25″ high, since that's what the schematic specifies. The ones I had before, 6.5″ in height, are simply too big.
While moving the entire yoke lower on the body might seem like an obvious answer, we must remember that doing so doesn't change the size of the pentagons.
Pentagons which are too high are also too wide. Therefore, leaving them the same size as before, even while moving them lower, would result in too much fabric around the shoulders. Case in point – look how much extra fabric ends up overlapping the sleeve.
Reduced to this simple line of logic, my goals became crystal clear: do whatever is necessary to get 5.25″ pentagons. Follow the pattern even if it means deviating from the directions! Hehe – doesn't that seem completely oxymoronic?!?
And follow (or is it deviate?) I did!
I ended up using US 6 needles, the same as the body of the sweater, and casting on 15 sts for each side of the pentagon. In contrast, the pattern calls for a US 9 and 20 sts (no wonder they were coming out so big!).
The switch from 1×1 ribbing to stockinette comes down to personal preference – I like it better, and I'm the one who'll be wearing the sweater, right?
Notice how perfectly the pentagons match my existing sweater.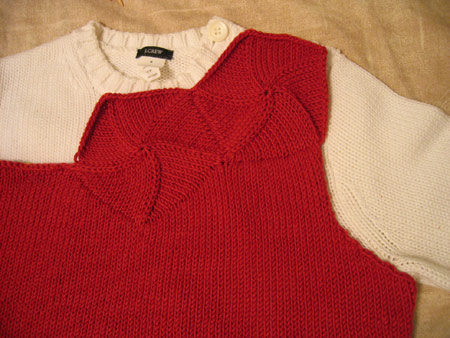 So… either I need an anti-crazy pill, or this might actually work out!
0
likes