Ever feel like you go away for a few days, but your regular life mysteriously (ha!) doesn't stand still? You come back only to realize that now there are four days' worth of stuff waiting to be done. And all of it must be done immediately, before you even unpack. Yeah. I'm glad I was able to knit so much on the train, because the rest of the week looks… hectic. Why must my knitting be interrupted by life and work?!? Hehehe 😉
Okay, ladies and gentlemen, before I get locked away in the microscope room, here's what I've got for ya: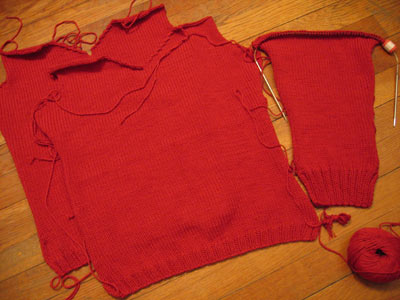 That would be a back, a front, and a partial sleeve of the pentagon sweater. For reals. I want to be the first kid on the block wearing this sweater!
I'm having an absolutely splendid time with this project. I love everything about it so far. The yarn, Gedifra Korfu*, is knitting up fantastically. It doesn't hurt my hands, it knits up incredibly evenly, it's softer than other cottons or cotton blends I've tried, and at a gauge of 4.75 spi, I'm flying through those rows! If elann ever gets it in stock again, I won't hesitate to buy another sweater's worth.
Although I'm modifying the pattern for my gauge, which is slightly different than the one called for in the pattern, other changes I'm making are really minor. As most of you noticed, I'm using 2×2 ribbing instead of 1×1. I also added just the tiniest bit of waist shaping, but not nearly as noticeable as the ultra-curvy indentations I put on the Filati tunic, for example. I made the torso a little longer… hmm, I think that's it for now.
The thing is that with this pattern, for (I think) the first time ever, I haven't had to rewrite the sleeve-cap and armhole shaping. I typically assume I have to do this for every sweater pattern, as they always seem to be too big for the fit I desire. But Norah appears to understand my hatred of batwings – she wrote the Pentagon Sweater pattern to have a (gasp!) 7 1/2″ long armhole! And for the sleeves to be (gasp!) 12″ wide before the sleeve cap! I can't say this is true for all the patterns in the book, but for this one… my God, woman, you and I are smoking the same bunny crack!
This revelation has, of course, saved me a bunch of time and energy. I am simply knitting the smallest size, adjusting for my different gauge, but not going insane with changing the complicated bits. Woo!
Are you sick and tired of my cheeriness yet? If so, I'll be happy to refer you to some gloomier posts to remind you of the typical MO around here, just let me know.
*While Googling "Gedifra Korfu", I came across a thread on a Russian knitting forum. Author "RedStitch" writes, "I decided to knit something for my 13-year-old niece for the summer. But everything looks grownup. I want something modern, not very "showy", so that overall it corresponds to her age. Ladies, what are you knitting your daughters for the summer? Please share your thoughts… I bought yarn, Gedifra Korfu – 50% cotton, 50% polyacryl…"
The responses are "interesting." You don't need to know a word of Russian, as the responders just pasted pictures of the suggested patterns, or links to pictures. Go look, and make sure to click to see pages 2-5 (you'll figure out how to do that, I trust… 'cause you have to see the one where the photo shoot takes place in the, uhm, bathroom).
0
likes