Whether it's apparent from my blog or not, I've been knitting quite a bit over the last few days! The sweater for LL is almost done! I can't finish completely until I visit Windsor Button to get some (you guessed it!) buttons. Otherwise, all done.
Although I've knit several baby sweaters before, they were all a long time ago, the last one being completed in December of 2004. Now that I'm a bit more experienced, I approached knitting this project the same way I approach knitting adult sweaters. First, I leafed through a gazillion patterns only to discover that the discrepancy in sizing for baby garments is freaking unbelievable. Even more variable than for women's clothing! What some patterns suggest for a 6-months old baby others claim will fit a 3-year old. Having no baby on hand to measure, I did the only reasonable thing: got myself to a Baby Gap, selected a machine-knit sweater of what I think is the appropriate size, and knit LL's sweater to exactly the same dimensions, from the neckhole opening, to the depth of the armhole, to the length between armhole and hem (the style is different, though, just the sizing is the same).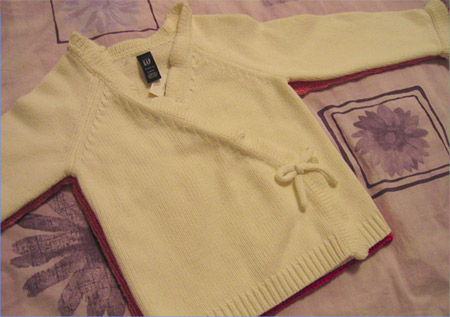 The Baby Gap sweater is on top, the one I knit is hidden below. Just so we're perfectly clear ;).
I can't guarantee that the Baby Gap sweater is a well-fitting sweater, but I think it's a reasonable assumption. Considering that this is how I make sure my own sweaters fit, I'm crossing my fingers and hoping for the best!