Yeah, I really do sniff yarn, and apparently many of you do, too.
Which yarns do I like to sniff? Well, I'll take a whiff of pretty much anything once. Unfortunately, most yarns don't smell like anything at all. I just smelled my Lorna's Laces, for example, and it doesn't smell like much.
But some yarns I sniff, and sniff, and sniff. Anything that smells like vinegar is fair game, because I love the smell and taste of vinegar. The stronger, the better! Well, one time I took a deep whiff of acetic acid (concentrated vinegar) in lab, thinking it was water, and it knocked my socks off, so not that strong :).
Then there are yarns which smell sweet, like Greenwood Fibers. Sniffidy sniff sniff!
And last there are yarns which smell like chemicals. I find that many cottons smell a little weird, and then one sniff is enough :).
Are you a sniffer and proud of it! Proud enough to put a button on your blog? Here ya go :).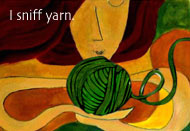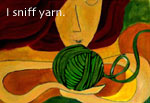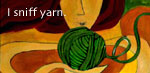 Please save to your own server. Hotlinking makes me very grumpy. If you hotlink, you will get a cold, I promise.
P.S. There will be no t-shirt. Whoever gave you that idea? Making money off of someone else's artwork (did you really think I painted that?) is incredibly uncool.
0
likes