… is this one right here: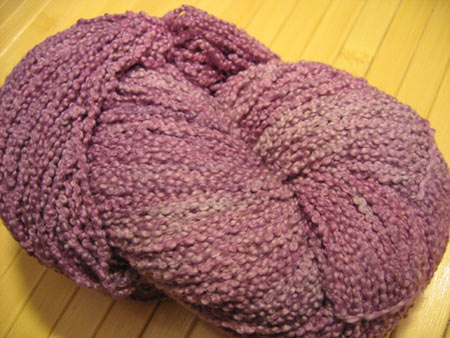 I saw it, and I loved it ("it" being cotton/lycra from Greenwood Fiberworks). It's actually not a color I would have typically chosen for myself, but I'm glad I was overcome with some whimsy when I placed the order – sitting here in front of me, it's perfect. I'm trying to figure out the best way to describe it. Carolyn calls it lavender, which is pretty accurate, but it has those gorgeous pink and periwinkle undertones. Amethyst?
I don't know, I don't think it matters what we call it ;). I had a very long, very hard day at work, but because Carolyn's package was waiting for me when I got home, I'm now in a good mood. I look forward to knitting with it, I even have a pattern in mind (I have to dig through my IKs, I can't remember the name right now, it's a few issues back).
I also got a skein of raspberry, a lovely color which, as it ends up, is my Odessa's long-lost twin.
Once again, a lovely hand-written note was enclosed with my order. Carolyn writes me that she doesn't scent her yarn (I actually didn't think she did). That gave me a little giggle, because the yarn, once again, smells really good. But, in the interest of full disclosure, I like sniffing many yarns. I know there are many other yarn sniffers out there, so don't be giving me weird looks, okay?
On the Sock-A-Pal (read that as you will) front, I finished the first sock.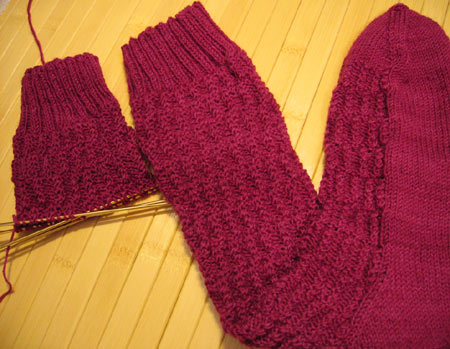 I'm very pleased with how it came out, but now I'm having a hell of a time motivating myself to knit the second. I think it has something to do with the fact that I've already knit the equivalent of like 6 socks with this yarn, 5 of which have been frogged. Good thing there's a deadline – I need one, that's for sure.
Other stuff: Mata Haris: definite progress, gray scarf: I owe you a photo, but no recent progress, dinosaurs: have to make one, lace: back on my mind, stranded knitting: back on my mind. If only I had all the time in the world ;).
0
likes