I had to take a break from socks. Don't get me wrong – I love adore knitting socks, but I've knit three pairs already in 2006 (well, 2 pairs, plus the single Meg Swansen sock = 2.5 pairs), and two more are currently on the needles.
Starting a new project is always very dangerous for me, especially if I feel I need to start something on the spur of the moment. You see, unlike many knitters, I typically do not keep a list of works in mind, and do not buy yarn corresponding to them in advance. Why? Because invariably what I pick to be the next must knit project today isn't the favorite any more two weeks from now. What can I say? – I'm fickle. So, when the urge hits or when the moment is right to start something new, I like to give myself some time to think about the next project carefully. Usually doesn't take long, and because I have other works in progress, I typically don't sit idle as the new yarn is ordered and delivered.
What happens when I'm truly in a rush, and when I don't have any works in progress to keep me occupied as the new project is formulated? "Brilliant" ideas like Azalea, also known as, what the hell was I thinking?!? By the way, I know some of you doubted my ability to say goodbye to that project. Well, say goodbye I did when I sold all the remaining yarn to another knitter – that's as final as it gets ;).
As I contemplated taking a break from all these socks two days ago, I knew I didn't have the time or mental energy to research and choose something substantial, like a sweater or a lace project.
Enter Mr. Stegs: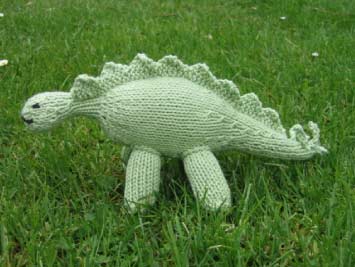 I'm Mr. Stegs, and I will eat all your Cheerios! Rrarrrr!
Perfect little distraction from socks, chosen on the spur of the moment without much thought, but I'm confident there will be no disaster with Mister Stegosaurus ;). I'm knitting him for a co-worker, for reasons that are much too scientifically involved to go into here.
Last night I picked up a skein of Tahki Cotton Classic from Woolcott* to knit him, and finished all the pieces while chatting with friends on the phone (good thing these friends are knitters, because they tolerated the occasional, "What the hell did I do here?" and "What does yfwd mean?").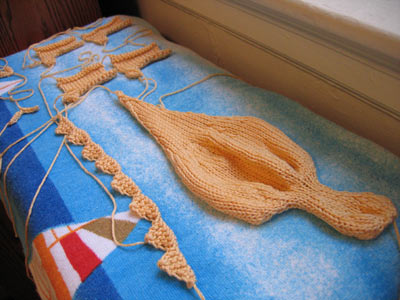 Here they are, drying on a beach towel in front of my window (yeah, I blocked them. Do you have a problem with that?). Only seaming and stuffing remains.
My friends, we need to talk about something. Why is it that knitted toys are so darn cute, but have so many pieces and ends to be woven in? You may finish the knitting in a few hours, but then end up spending the remainder of your lifetime putting the darned thing together. And I feel that this is the case for pretty much all knitted toys, no matter how cleverly and carefully constructed! Hopefully seaming Mr. Stegs will involve only time, and no cursing ;).
Last thought – I'm not sure how I feel about Mr. Stegs having a smile. Just doesn't feel quite right (the recipient is a feisty 20-something). Rrarrr!
*Woolcott, by the way, has a new manager, and the changes were evident. For example, there were needles! In all different sizes! And there wasn't yarn and unpacked boxes all over the floor! And things appeared to be tidy and organized! Sean, the new manager, seems to be doing a great job so far, and I'm just psyched to have a yarn shop in my backyard once again.
0
likes