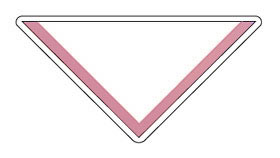 (one more row than before) (but I tinked and re-knit those four rows to fix the pattern mistake)
Heh.
Hehe 🙂
Should we pick up this cliffhanger where we left off?
Previously on Grumperina does not speak Japanese, our heroine received some unexpected and shocking news about her current knitting project, the Mountainash Shawl. Fortuitously, the news reached her at work, allowing her a whopping 20 minutes to think about the situation while walking home. This prevented barbarian frogging carnage, an act so wild that it would be available on Pay-Per-Blog only.
Here's what happened – Noriko's e-mail literally had me on pins and needles until I got home. It didn't sadden me, and I now realize that calling the news "bad" was a mistake. Not bad; rather, intriguing, puzzling, exciting… welcome! Yes, Noriko, the information was welcome, and I thank you again ;). I couldn't wait to get home and open up the pattern book. I thought, now this is a challenge – BRING IT!
As many of you pointed out, there are many ways to skin a cat, and you know that there's no way I would embark on knitting a huge shawl (the pattern for which is written in freakin' Japanese!) without a plan. Of course not! I poured over that book for hours, and e-mailed back and forth with my Shawl Army many times before I cast on.
So, how would the newly acquired information affect my project? Good question. I raced home not to curl into the fetal position and cry, and not to have a wild frogging party. No, no! I raced home to see how my shawl plan differed from the designer's, and whether I had missed something critical for which I would now need to make adjustments.
The shawl schematic above tells you that no frogging ensued. In fact, if I may be so bold (tempting the Knitting Goddess is a bad, bad idea, watch me get struck with a pointy knitting needle for saying this out loud), I think the way I'm going about knitting this shawl is… at least as intuitive (I don't want to say "better," but… you know…). I ran the plan by Terry when I saw her at the Yarn Harlot tour stop today (hi everyone!), and she nodded her head in approval.
For the technically-inclined, and for those who are knitting or planning to knit this shawl, I include a brief explanation of the differences in the extended entry. For the rest of you, a progress photo: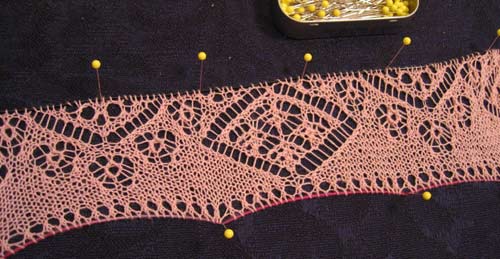 BRING. IT.

Okay, I promised myself that I wouldn't blab too much here – time spent putting together diagrams = time I could be knitting the shawl ;). I'm guessing that if you've opted to read this, you'll understand a brief explanation as clearly as a really wordy one.
First, a word about the border – it is a very simple, symmetric border (picture). The designer has made no special provisions when it comes to the corners, no mitering, no short rows (picture). As you'll see, this is a key point.
What the designer intended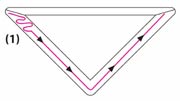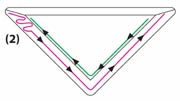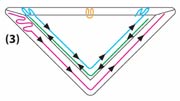 (1) The border along the long edge of the shawl is knit first as a freestanding fabric. It is 9-12 stitches wide, and we are asked to knit 85 repeats, or 1021 rows, of it. Are you already convinced that perhaps this way isn't the best, hahaha! (2) 510 stitches are picked up along the inside edge of this border, (3) the main part of the shawl is knit long-edge-to-center; the border along the top edge is knit simultaneously using short rows; the saga ends when the center of the top is reached and the border is grafted (orange squiggly).
In the pattern, the border chart appears seven times to show the knitter the frequency at which it's attached depending on the part of the shawl. Had I looked more carefully at the two charts illustrating how the border is attached at the center of the top of the shawl, I would have noticed that the rows are worked discontinuously, in two opposite directions. Since the border is symmetric, this is not even approximately obvious unless you're really looking to see which way the decrease symbols face (or know Japanese and can read the instructions). This was my only clue as to how the shawl is actually worked, and I don't blame myself for a second for not seeing this until prompted by further information.
How I interpreted the pattern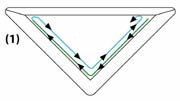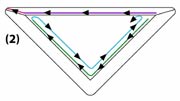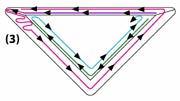 (1) Provisionally cast-on 510 sts, which correspond to the long edge of the shawl; work shawl long-edge-to-center, (2) break yarn, and pick up stitches along the selvedge edge; provisionally cast on 9 sts to account for width of border, (3) knit border seamlessly all the way around, using live stitches from the provisional cast-on (green) and picked up stitches along the selvedge (purple); graft last row to cast-on edge.
Is that last diagram busy enough for you?!? Hehe.
I figure that the annoyance level of provisionally casting on 510 sts is cancelled by uniformly picking up 510 sts along the edge of the border. But on top of that, "their" way has you knit the border first… this very skinny, very long border – annoying. As for the short-rowed border along the selvedge edge – pretty clever, but is it that much more convenient than just picking up stitches and attaching the border later?? If I knew about it ahead of time, I think I would have implemented it just for novelty's sake, but it's not so revolutionary that I'm willing to start over.
So, I think my plan will work. I know it's probably impossible for you to offer an opinion because you don't have the pattern, so I'm not asking for one. Rather, I simply ask for good wishes ;).
0
likes