You knew it was going to happen: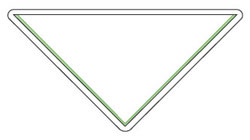 I have such an addiction to these schematics. They are a great encouragement to me because with each one I note my progress. I also feel they are very helpful to my blog readers – much more telling than, "I've completed ten rows from chart A."
Sadly, in noting my progress today, I was running out of pixels to indicate how much little I've knit – can you even see the little green stripe of progress?!? I've only finished 5 out of 249 rows… 5 very, very long rows, each one more than 500 stitches long! Important to keep that in mind ;).
And the counting is driving me insane! Right now it's just a sea of stockinette and garter, no pattern repeats to keep me on track, to tell me if I've miscounted. So I count… I count in twenties, I count in forties, then I count in 48s, since that's the size of the first pattern repeat. I try to position the markers in anticipation of the pattern, the meat and potatoes of the whole thing. But invariably, 500 plus stitches which at this point are all identical (and very thin, and reflect through the transparent cord of the circular needle) may or may not be making my eyes cross ;).
So yeah, the other thing is that this pattern is written entirely in Japanese. The only English words in the whole thing are "When the mountainash is in flower" and "Jean Sibelius," which led me to believe that those were the title and designer of the shawl, respectively (as it ends up, that's not the case). Since I can't read Japanese and figure out the proper title of the pattern, I'll still call the shawl Mountainash. It is the same book as used for the Crossed in Translation KAL.
Now, please, no gushing youcandoits, and no links to websites which explain Japanese patterns – I've cast on, so I obviously know about the links, and the youcandoits I can live without (unless you have intimate knowledge of the pattern and can assure me that it doesn't have mistakes and unpleasant surprises, etc. – then feel free to tell me that I can do it 😉 ).
I'm hoping that Mountainash will provide a nice exercise for the hands and the brain, and not in the way Misty Morning did – rewriting a pattern is not a challenge I wish to undertake unless it's compensated by a big, fat paycheck.
In preparation for what lies ahead, I've assembled an army of experts who are willing and able to help me – Terry, who has the book, some experience with Japanese patterns, and years of experience in knitting shawls, Siow Chin, who gave me the book, has experience with Japanese patterns, and understands the Chinese-derived characters, and Shiromaru, who is a Japanese knitter, and very generous to have offered me help (check out her Jaywalker-inspired gloves!).
I'm ready for battle – forge! 🙂
How thin is cobweb weight, someone asked? In the photo below, the cranberry yarn holding the stitches is standard sockweight yarn. That thin.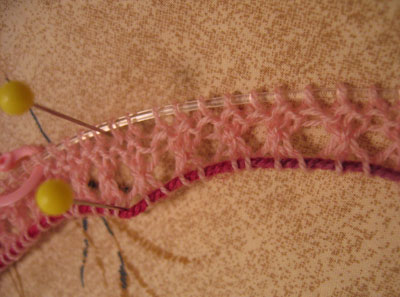 What type of provisional cast-on did I use? Looping provisional cast-on, p. 77 of Montse Stanley
, my resource for nearly everything these days. This cast-on was a lifesaver – it went by much more quickly than a long-tail or knitted cast-on, and at the same time it was provisional, as necessitated by the pattern.
I'm pretty fixated on this project right now, which kind of sucks for my sockpal and her socks – I wonder if perhaps she'd object to one normal sock, and one which is missing everything below the heel? Hehe… Seriously, the plan is to finish those by Monday. For real. Then it's going to be all shawl, all the time ;).
0
likes