I'm taking a much-needed shawl break. It's not that my hands feel like they've been beaten with a hammer, or that nearly 500-stitch rows are causing a migraine right above my left ear. It's not that noting a mistake and tinking hundreds of stitches on Saturday was a full body workout (every. single. little. itty. bitty muscle of my body was clenched as tight as a greedy hand around the last ball of cashmere yarn on sale).
And, oh, just wait 'till you hear this – last night I had a very vivid dream. In it: I sit on my couch and pick up my shawl to knit. Holy shit! The knots at the ends of the yarn which is holding the provisional cast-on (you know what I mean?) have come undone, and it's gone! All these live stitches are flapping in the wind. It's okay, I tell myself, the stitches are very well defined (yeah, right, not in real life) and I'm able to gather all of them onto a needle. Then I count them, and I have only about half of them on the needle, the rest have unraveled. Then, yes, in my dream, I very calmly frog everything I've knit so far and start over.
I have to say that this dream (nightmare?) is so revealing because I'm absolutely paranoid to death that the knots will undo themselves and I will lose my cast-on. I obsessively check the knots like every 50 stitches.
Anyway, none of these reasons prompted me to put the shawl down. No, no! I finally got Stephanie's new book
. And I had to read it immediately. Shawl break time!
If you remember, I read Stephanie's last book
under the most unusual circumstances – simultaneous to doing crazy-ass experiments in the middle of the night, with only the glow of the computer monitor as a light source.
And this one? Hehe ;).
As soon as I really got into it, the lights went out. Not only the lights in my own apartment, the lights on my entire block. This happens to my block frequently, especially during the summer months, and I easily diagnose the problem (and absolute lack of a solution) by looking out my window at the streetlights. Yup, they, too, were out.
Aha! I've lived in this turn-of-the-century house long enough – where's my flashlight? Rummage through this drawer and that one, but no flashlight! (I later found the flashlight – it was exactly in its right place, but in my delirium I think its presence didn't register). Okay, fine, I've got a candle on the table, it will have to do.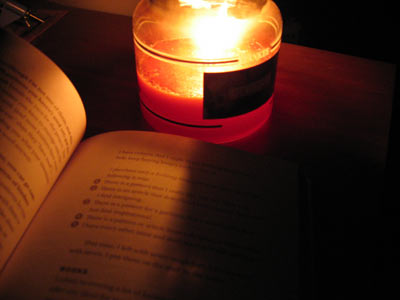 And so it was. Yarn Harlot and candlelight. The lights are back on (obviously, or I couldn't post), and even though conditions are now ripe for the knitting, I'm choosing to read this fine evening. I've yet to finish the book, but from what I've read so far – brilliant.
Now, I'm not going to suggest that this has something to do with Stephanie and her (obviously possessed) books, but, you know, how come I'm always reading her books in semi-darkness?
And which of you fine Bostonians will I see on Thursday when Ms. YH comes to Porter Square Books? The event will be held off-site at the Masonic Temple on Mass Ave (details here). I'll be the grumpy-lookin' one ;).
0
likes