My friends, I want to tell you how knitting saved me money.
Say what?!? I bet you're perplexed – how can knitting possibly save anyone any money? With the yarn, and the books (oy, I have such a weakness), and the patterns, and the needles, and the gadgets, and the constant stash-building (no matter how strict the yarn diet), knitting is a hobby like any other – we want all the stuff, and the stuff ain't free.
It all started with spring. New England winters are not for the faint of heart, even though the last one was pathetic in comparison to years past (February 2003 is all I'm sayin'), and the summers are steamy and rather disgusting. But spring! Spring is lovely! Spring is 3 weeks long, but let's not think depressing thoughts right now since it has been gorgeous outside – in the 50s, 60s, and 70s – for several weeks now.
For me, warmer weather means a wardrobe rotation. It's no secret that I have a lot of clothes, and there's simply no way for both my winter and summer attire to fit into my closets at the same time. The wool sweaters must be put away, while the summer t-shirts must come out of their hibernation. Spring is the proper time of year for this transition.
Of course I can't just put the wool sweaters away – they are the type of garment that I typically don't wear next to my skin, and as such, they usually don't get washed during the entire winter, lest I spill some food on them, or otherwise dirty them. Before they get stored away, therefore, they must be cleaned of the general grime of life they encountered during the winter season.
How?
Well. Hehehe. The labels on most of them say, "dry clean only." In years past, my sorry ass would collect my wool sweaters (more than a dozen, my friends, more than a dozen of them) and parade straight to the dry cleaners, "Hi, I'm Kathy, and I'm about to make your day. Wait, I'm about to make your MONTH! What's that? I have some dirt on my forehead? No, no, it's just a tattoo, it says sucker."
But this spring, I'm smarter. Wiser. Cleverer. Craftier. I'm a knitter!
True, most of the sweater labels say, "dry clean only," but most of them also say, "100% wool," or some other mainly wool blend (i.e., still behaves like wool).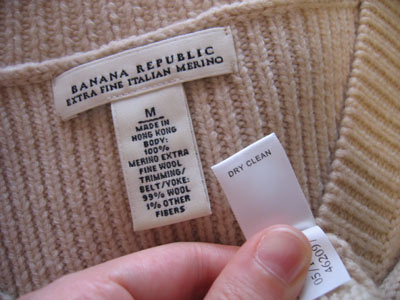 I furrow my brow – that seems oxymoronic. Now it does. Before I wouldn't have questioned the label! Now I have actual firsthand wool experience! I know wool has been around much longer than dry cleaning (silk, too), and I don't ever remember myself taking my wool yarn swatches to the dry cleaners, nor reading "dry clean only" on any wool yarn ball bands.
I'm breaking the rules. I'm hand-washing these "dry clean only" (said in a mocking voice) sweaters. I'm also not using the macro lens (first time on this blog? maybe…).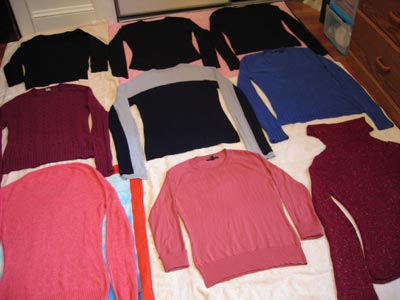 Scene of the incident – my floor. Nine freshly-washed sweaters drying; fourteen more waiting their turn (yeah, I've got lots of them, I warned you). The beautiful sound of saving money is ringing in my ears – ka-ching, ka-ching, ka-ching! How much money, you ask? I, too, was curious. I live in the Boston metro area (pricey is an understatement), and a quick phonecall to my dry cleaners this morning revealed that they are taking me to the cleaners in more ways than one – each ladies' wool sweater costs $6.25 to clean (this is a middle-of-the-road price – I called around). You're doing the math, aren't you? By hand-washing my sweaters rather than taking them to the dry cleaners, I've now saved $143.75. KA-CHING, baby, KA! CHING!
There are certainly cons to this method of cleaning my sweaters at the end of the winter season – hand washing takes time, energy, and a lot of space. I think this is the reason dry cleaners get away with charging so much – it's not just the matter of cleaning, it's also a matter of convenience. Also, the smell of wet wool permeating every corner of the house can be a little unnerving, although I find it quite calming and familiar ;). On the other hand, the scent of my sweaters washed in Tide and Downy, my preferred detergent and fabric softener, is a huge improvement over the scent of the organic solvents used in dry cleaning. You don't find me sniffing carbon tetrachloride in lab (unlike the microscope oil, but I digress), there's no reason to wear it on my skin. Money saved and smell improved – that's what I'm talking about!
There's an idiomatic saying in Russian, "to hang noodles on one's ears," which means, naturally, "to make one look like a fool/idiot." JCrew, Banana Republic, Ann Taylor, and others – you will NOT hang noodles on my ears this spring! This spring I am a KNITTER, and I am smarter than you. I will disregard silly "dry clean only" labels. I will hand-wash my store-purchased wool sweaters the same way I hand-wash my handknit ones. And I will save money. Lots and lots of money.
P.S. I have already hand-washed some of these sweaters during this winter – a few I sometimes wear next to my skin, so they need to be washed more frequently, and a few unfortunately had food spilled on them. I have not ruined anything so far ;). The nine sweaters drying also haven't been ruined. Confidence level = high.
P.P.S. Those of you who may remark that this little experiment is also an excellent and hassle-free way to dust my floors – you are smart and crafty indeed :-D.
0
likes