You know the best part about the experiments I'm currently doing? Work, work, work, add, mix, wash, then do absolutely nothing for 3 hours while things percolate in the ol' Petri dish ;). And that's just the perfect amount of time to hop on the 66 bus and head to A Good Yarn to scope out their needle selection (hi, Dani, hi, Johanna!).
My friends, thank you for your feedback to my last entry. I think we must establish something here and now – "pointy" is different things to different people. When I say I want a pointy needles for lace, I mean skin-piercing pointy. I don't use my fingertips to push against the tips, so I can really tolerate something as pointy as a sewing needle. I'm making an extreme example, but I hope you get the idea.
Several of you commented that the points of Inox circs are highly variable, and a quick glance through my own needle stash revealed that this is indeed the case.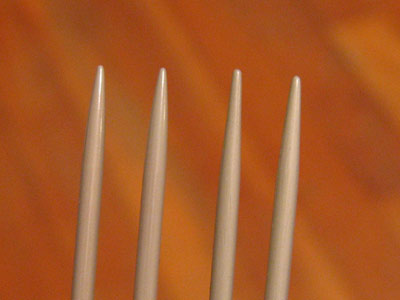 Exhibit A: two 2.25 mm (US 1) circulars, and their four points. Can you see the difference? The two on the left are much more sharp than the two on the right.
Considering this evidence, the purpose of my trip to AGY was to go through their entire stock of 2.75 mm (US 2) circs and see if I can find a pair which is more pointy than the one I'm currently using. What I found is that while US 0 and US 1 Inox Aluminum are pointy enough for me, no US 2 was sufficiently pointy. Some were more pointy than my current set, true, but still not perfect.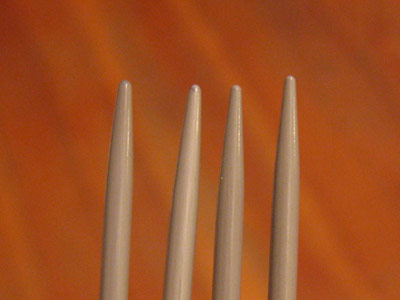 Exhibit B: two 2.75 mm (US 2) circulars, and their four points. The two on the left are my old set, and the two on the right are a new, pointier version. Still not perfect, though.
On the way back from AGY, I stopped by Woolcott, since I was quite impressed with their needle selection the last time I was there. Good thing I did – I found something quite interesting: Inox Express needles (in contrast to the gray ones, which are Inox Aluminum) in a 2.75 mm size. Now, I love Inox Express and use them often in larger sizes. In fact, I consider them the better, pointier Addi (cheaper, too). However, I always get tripped up with their sizing and it wasn't until the 2.75 mm Inox Express was staring me in the face that its existence actually registered. And, its points are nice!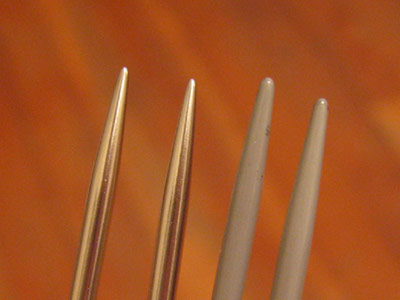 Exhibit C: Inox Express next to Inox Aluminum, both are 2.75 mm in diameter.
I've now transferred all the stitches to this needle, and I have to tell you, I don't love it. The points are fine… more than fine. I give them 8 out of 10 on my own little scale. What is bugging me is the length of the actual needle (too long) and the fact that it doesn't taper. Also, believe it or not, I'm finding it more grabby than the Inox Aluminum! I think the two go hand in hand – if the ends were tapered, the stitches would be easier to move along and I wouldn't think it was as grabby.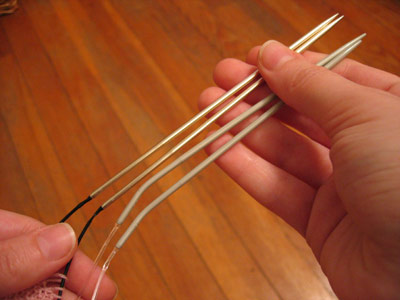 Exhibit C': Inox Express next to Inox Aluminum, both are 2.75 mm in diameter.
Also, in a moment of panic and weakness I grabbed 2.75 mm Crystal Palace circs. Those suckers were packaged nice and tight in their little sleeve, so it wasn't until I got home that I was able to take them out and feel the goods.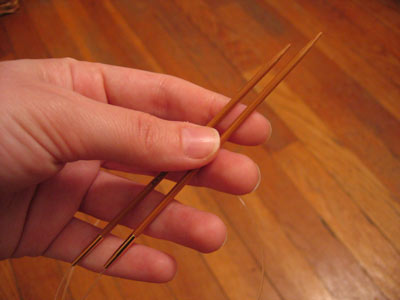 Exhibit D: What was I thinking?!? These will not work for me. No way, no how. I knew this! Why did I panic like that and buy them?!? They won't work not because they aren't sharp enough (these can be sand-papered to whatever sharpness one desires), but because they will resist letting go of the stitches. I'm taking them back tomorrow, first thing in the morning.
So, it looks like I'm sticking with exhibit C for now. I cross my fingers that I'll get used to them and everything will work out just fine. I'm so picky, I know.
0
likes