I was surfing around Etsy the other day, setting various preferences and such, when an innocent push of some button resulted in the following message: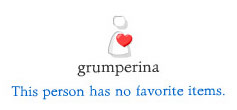 Is this a bad April Fool's Day joke?!? Ha ha. I'm not laughing. Well, then. Who does this "Etsy" think she is, and how is it that she's pretending to know me? Clearly she doesn't know me at all. I'm insulted! No favorite items… as if!!!
I SO have favorite items. For one, my new favorite, and the reason I created an Etsy account in the fist place – Greenwood Fiberworks cotton/lycra! And are there… solids now available? Mmmhmm! I'm only telling you because I already got all the colors I wanted :-P.
Also, how about my all-time favorite yarn, Louet Gems merino? So soft, knits up so evenly, such nice stitch definition, such smooth stockinette, feels lovely on the needles, doesn't hurt my hands, withstands frogging, versatile – for sportweight: socks on 3s, sweaters on 5s – I could go on and on.
The one thing I cannot comment on is how well it holds up after extended wear – the only Louet item I've kept for myself is my Vintage Pink Cardigan (modeled below), and I've worn it maybe three times in the span of a year. Also, since I've always hand-washed my sweater, I don't know how the yarn behaves in the washer/dryer. Those are important parameters for many, but not so much for me and my "it needs to be Arctic conditions to wear wool" lifestyle ;).
In celebration Flash Your Stash day, I will flash (some of) my stash(ette). Which part of the stashette, you ask? The only part that really matters – the Louet.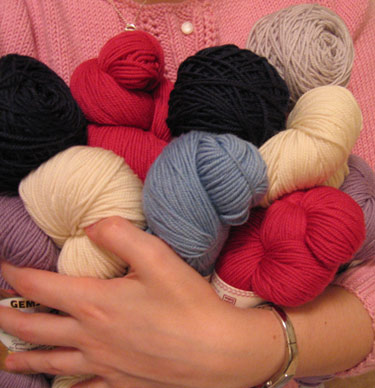 Oh, Louet, come close to the bosom. Mama loves you.
P.S. That's not my entire Louet stash. Did you really think that was my entire Louet stash?
0
likes