Does this look familiar?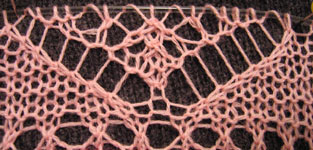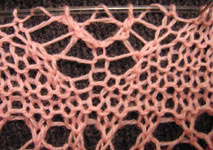 I'm having such déjà vu – the googlie mooglies are back!
The condition of my left hand can only be described as paralyzed, pained, stiff, and tired. My jaw is aching from all the clenching as I try to accomplish the most ridiculous needle acrobatics ever.
Oh my God, the Japanese must have muscles and bones of steel, and really sharp metal needles to be able to do this and maintain sanity!!! And look at me, all proud of myself, prancing around with my pretty pink yarn – the joke's on me – it is so thin, so pale, that it might as well be invisible!
You know the worst part? I'm still learning the pattern and the way the stitches flow from one row to the next, so that I can easily spot mistakes. Well, that's not the worst part. The worst part is that I'm learning on rows which are 500+ stitches long, and on a pattern repeat which is 48 stitches wide, 68 rows high, patterned on both right- and wrong-side rows. A more complicated teaching tool has never existed! My fear of making a mistake and having to tink is at an all-time high. Like, dear Easter Bunny, I will buy the chocolate, please don't make me tink 1000 stitches!
Fortunately, I haven't had to tink, but that's only because I make each and ever stitch with baited breath. One little stitch, two knit together, gulp, three more little stitches, check the chart, count again, don't drop the yarnover, grasp those suckers on the left needle like your life depends on it, no tinking, one more little stitch. Deep breath, but not too long or you'll forget what you were working on.
Since I'm in a mood of one kind or another tonight, allow me to officially proclaim these INOX circs as too blunt. Not as bad as Addi Stumpos (nothing compares to an Addi, in more ways than one), but BAD. Unfortunately, this is the best I can do (I find wood/bamboo way too slow, many of the other needles don't come in US 2 and smaller sizes, and those which do, usually have atrocious cords). Curiously, the INOX dpns are so much more sharp – what gives?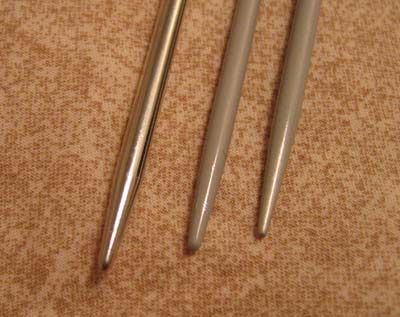 Left-to-right: metal dowel masquerading as a knitting needle (it's probably fooling you, too – the reflection makes it seem way more sharp than it actually is), INOX circ, INOX dpn.
And while we're at it, let me throw this interesting fact out there: INOX makes circular needles and 8″ double-pointed needles in the following (relevant) diameters: 2.25 mm, 2.75 mm, and 3.25 mm. What about the 6″ long INOX double-pointed needles? Well, they come in 2.00 mm, 2.50 mm, 3.00 mm, and 3.50 mm diameters. WHY, INOX, why?!? Why this crazy inconsistency? I don't even care what US needle numbers you assign to these, that's not what this rant is about, I just want to be able to knit my shawl border using one of the tiny 6″ needles, yet they don't come in the same sizes as the circulars!
Oh, oh! Okay, I promise this is the last thing – this pattern is very interesting in that the decreases are not symmetric. So, the googlie mooglies up there? Not a single left-leaning decrease in there! All k2togs and p2togs! I find this incredibly strange (and noticeable).
I've now completed 12 rows out of 249 – God help me. Yes, I'm invoking higher powers (and if you know me in real life, you may now giggle).
0
likes