Guess what? 😀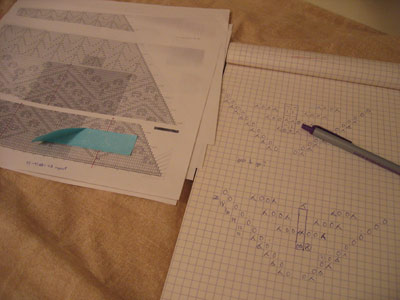 I found a mistake. I don't know why this makes me happy. No, I know – this pattern is written in a language completely foreign to me, and yet I persist in questioning everything, apparently for a good reason.
It's a sort of weird mistake, possibly a typo. I think in creating a sub-chart for the main chart the designer simply lost track of stitches. As a result, a certain section ends with 9 stitches but only 8 are required on the next row as written. There are a few ways to fix such a mistake, and for symmetry's sake, I've decided to incorporate a decrease where there wasn't one before (if you, too, are knitting this shawl – row 23, immediately before the boxed inset, work a k2tog).
The bad news (and you knew this couldn't be all peaches and honey) – I have to tink 4 rows, 1840 stitches. Gulp. It will be okay, I'm not fretting. I'm just thrilled I finally figured out why my yarn overs weren't lining up, and why I had to keep adding a stitch to one side of the pattern repeat. Yay!
Progress as of this very minute: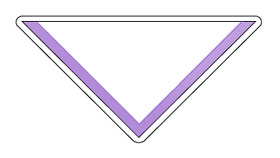 The purple stripe will decrease momentarily, but I hope to catch up quickly. The truth is that I'm past the most complicated part of the shawl, where the googly mooglies are just PILED on top of each other, without any breaks. Right now it's a fair amount of patterning, still on both sides of the work, but it's not nearly as bad as before. The googly mooglies will come back, but not for a long while, so I'm not thinking about it until I get there ;).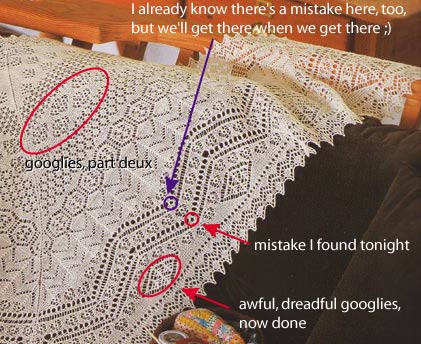 As for yesterday's rant (and others like it)… you know, I wish you would all come over to my house. We'll have some mango-flavored black tea, and I'll tell you about my knitting escapades – so intense, so difficult, so demanding, so complicated – and while telling you my stories, you will see the hugest grin on my face, and a gleam in my eyes that can only signify insanity and utter excitement. Hand pain is something I can live without, that's true, but please don't take my descriptions of very complicated and demanding projects too literally. This is the way I like to knit. I don't intend for my knitting to be stress-free (except on-the-go projects), I want it to be a mental exercise. Call me crazy, if you must ;).
0
likes