You'd think I'd be completely, utterly, disgustingly pleased with myself upon finishing the stranded section of Meg Swansen's sock, and I totally am. "Smug self-satisfaction," as some would say.
But what really made my day was the realization that I no longer have to throw with my right hand, and therefore, no longer have to use the 2-circ method. In fact, as soon as I knit the last two orange stitches, I immediately transferred all my stitches onto some comfortable, familiar, slinky dpns and took the equivalent of a victory lap – knit one round, with only one color, on dpns, Continental style as typical. AHHH! It felt SO good. Oh. My. God. It felt GREAT.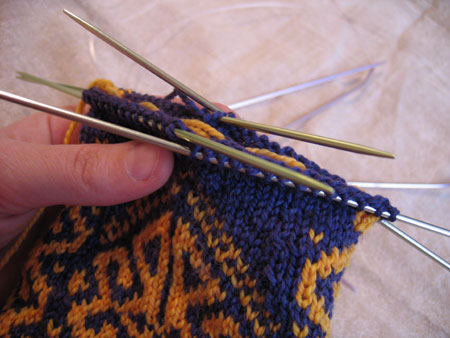 It's hard to describe what exactly my beef is about knitting on two circs, but I just know I don't like it. It gives me the heebie-jeebies, like accidentally scraping the sidewalk with a metal shovel. Shudder! Details don't matter – needle brand (even Addis), cord length, socks or something bigger – to me, it's all highly unpleasant on two circs. And don't even get me started on Magic Loop, because I couldn't think of a more disturbing analogy than "shovel gracing sidewalk." I'm certain that others feel about dpns the way I feel about 2 circs or Magic Loop. Good thing we all have options… and that no one is forcing anyone to knit one way or another ;).
So, yes, the stranded portion of the sock is done. Woo!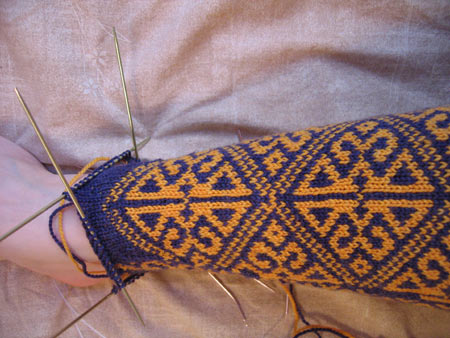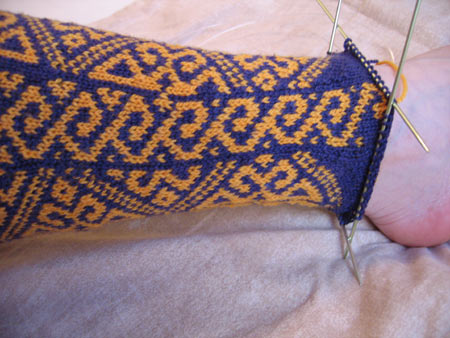 I had really, really long floats where the last pattern repeat tapers into the foot of the sock, the last 10 rounds or so. I had to secure them by twisting the yarns, and I made sure to leave them loose.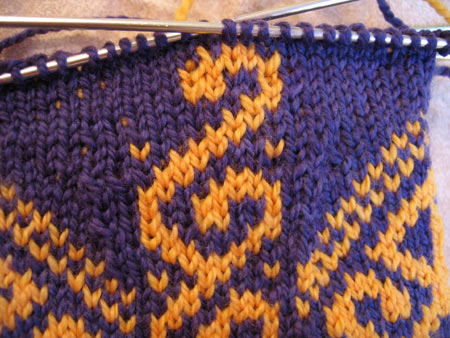 Not my best work – the floats are perhaps a little too loose, and you can see places where I caught the unused yarn peeking through. I'm definitely depending on the miracle of blocking here. But not before I finally get to the cool part – the foot with arch shaping!
0
likes